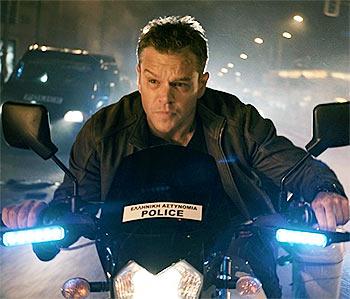 If you're a Bourne fan, watching Jason Bourne once won't hurt much, says Namrata Thakker.
Like most of you out there, I am an ardent fan of the Bourne series.
So when I heard about Matt Damon and director Paul Greengrass coming together for the fifth installment, I was more than stoked.
After all, it's Jason Bourne and who doesn't love him?
But while Jason Bourne is thrilling in bits and pieces, overall, Matt Damon's return in the titular character isn't that impactful.
In order to expose CIA's black ops programmes, Nicky Parsons (Julia Stiles) hacks into their mainframe server and in the process, ends up with documents concerning Jason Bourne's recruitment into Treadstone. She also finds information about his father and his association with the programme.
Nicky decides to get in touch with Bourne, but meanwhile, Heather Lee (Alicia Vikander), the head of CIA's cyber ops division and CIA Director Robert Dewey (Tommy Lee Jones), are alerted about her intrusion into the mainframe server.
Fearing that Bourne would leak more information about their operations, Dewey sends his asset to kill Bourne and Nicky.
That's when the real action begins.
Fifteen minutes into the movie and the first chase sequence takes place in Athens, Greece.
The action moves to Berlin to London and finally, Las Vegas. Bourne is on the run, killing people in order to find out more about his identity and his father's involvement in the Treadstone programme.
Out of the four Bourne films, Jason Bourne is the least exciting one.
While Damon stays true to his character and is intense throughout the film, it's the story that lets this spy thriller down. It's neither engaging nor does it make sense at many levels. It seems the makers wanted to take the Bourne series forward but did not know how to, and ended up making an action thriller without a story.
The action, of course, is good. All the car chase sequences are a visual delight even though the 3D effect wasn't needed and made the viewing experience a bit annoying since a major chunk of the film has been shot in dark.
Alicia Vikander and Tommy Lee Jones turn in decent performances.
Matt Damon could have made a stronger comeback with the Bourne series but if you're a Bourne fan, watching watching Jason Bourne once won't hurt much.
Rediff Rating: