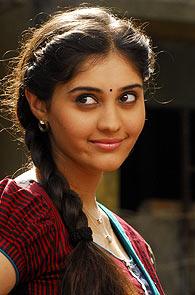 Ivan Veramathiri lacks the simplicity, depth and magic of Director M Saravanan's last film Engeyum Eppodhum, writes S Saraswathi.

Director M Saravanan hit the jackpot with his first film, Engeyum Eppodhum, which won him both critical acclaim as well as box office success.

For his second venture, Ivan Veramathiri, which is already the talk of the town (releasing in over 500 screens worldwide), he has teamed up with Vikram Prabhu of Kumki fame.

The film also stars debutant Surabhi, Ganesh Venkatraman, Vamsi Krishna and Hariraj.

Ivan Veramathiri is produced by UTV Motion Pictures in association with N. Lingusamy's Thirupati Brothers.

The film opens with a violent incident in the city law college, instigated by the law minister Sadasivam, who is angry that his demand for seats under the minister's quota was not met.

Even as the students are mercilessly beaten to death, indifferent policemen, curious onlookers and the media stand around doing nothing. A few insensitive ones even take pictures and shoot videos.

Three lives are lost and as the incident is reported by all the TV channels and radio shows, people are outraged, but feel completely helpless because the culprit is a powerful minister.

Gunasekaran (Vikram Prabhu), a student in search of a job, is deeply affected by the incident and decides to take matters into his own hands.

The minister's brother, Eeswaran (Vamsi Krishna), is out on parole for a couple of weeks and needs to be handed over to the police before a particular date.

Gunasekaran kidnaps Eeswaran and keeps him hidden at
a deserted construction site. His plan is to have the minister arrested for parole violation and helping a criminal escape.
Malini (Surabhi) plays his love interest. She is a cute, happy and naïve engineering student. Surabhi is perfectly cast and brightens up all the scenes she appears in with her bubbly, innocent character and seems totally natural and fresh.
Ganesh Venkatraman as Aravindan, a police officer, turns up only after the first half and though he has very little to do, he seems competent.
Vamsi Krishna appears quite intimidating and has given an admirable performance. .
Vikram Prabhu, who impressed us with his realistic performance as a simple lungi-clad mahout in
Kumki,
seems comfortable in the urban setting of this film.
The spark, however, seems to be missing. His romantic scenes with Surabhi seem awkward and stilted and he really needs to work on his dance moves.
His character of a common man, frustrated, angry and saddened by the unlawfulness and senseless violence that people have come to accept as an everyday occurrence, is not very convincing.
The plot of the film seems to have been taken from the Chennai Ambedkar Law College violence that happened a few years ago. The film starts brilliantly but does not maintain the suspense or pace.
It picks up pace in the second half, but some of the scenes are too cinematic.
Director M Saravanan raised the bar for himself with his incredible debut; unfortunately,
Ivan Veramathiri
lacks the simplicity, depth and magic of
Engeyum Eppodhum.
Music by C Sathya, editing by A Sreekar Prasad and cinematography by Shakthi are all well done.
Rediff Rating: