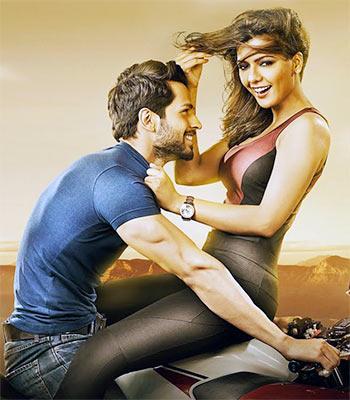 Nadeem Saifi fails to pack a solid punch with his comeback film as a composer. One expected a lot more from him, writes Aelina Kapoor
The last time Nadeem Saifi composed music for a Bollywood flick was way back in 2009. It was for Govinda and Riteish Deshmukh starrer Do Knot Disturb. However, apart from Bebo, none of the soundtracks from the film really struck a chord with the audience.
And now Nadeem Saifi is back after six years with Ishq Forever. Considering the film's genre and title, one certainly expects a horde of melodic songs along with vintage touch. Not to forget, lyricist Sameer's presence further ups the expectation bar.
But have Nadeem and Sameer lived up to all the expectations? Read on to find out...
The title track won't make you jump with joy but it will hold your attention as you go past the sweet tone that it carries. The arrangements will remind you of the 90s but then that's the kind of nostalgia one expects from a Nadeem composition. All in all, its a sweet number sung by Zubin Nautiyal and Palak Muchhal.
Palak Muchhal has lent her voice to one more song and this time its Rahat Fateh Ali Khan giving her company. If you loved hearing songs that Nadeem-Shravan composed for Darshan brothers (Suneel and Dharmaesh) then you won't mind listening to Bilkul Socha Na. This track also has the 90s touch but the fan in you won't mind it a bit.
Neeti Mohan has sung the next song which is titled Expectation. It's a college campus track with late 80s/early 90s feel to it. Nothing extraordinary though.
Nakash Aziz, who sung peppy numbers like Saree Ke Fall Sa and Selfie Le Le Re, goes all sober for the celebration track Happy Birthday. While the intent is good, its safe to say that this number is far from being a birthday anthem. It has a stale feel to it and lacks energy.
Next on the list is Ishq Ki Baarish which is a trademark Sameer number. The way Shreya Ghoshal has sung this one, it will instantly remind you of Alka Yagnik and how she use to sing for Karisma Kapoor back in the 90s. As for Javed Ali, he lends good company to Shreya in this vintage number that may not cover much of a distance but does well for its duration.
The mood of the album changes with Mere Ankhon Se Nikle Ansoo - A duet by Rahat Fateh Ali Khan and Shreya Ghoshal. This one is straight out of the early 90s and is on the lines of Nadeem-Shravan compositions like Sapne Sajan Ke, Rang, Hum Ho Gaye Aapke and more. No wonder, Mere Ankhon Se Nikle Ansoo is the best track of the album.
Then there is a party number Oh My God crooned by Siddharth Mahadevan and Sarosh Nanavaty. Though the tune is just about ordinary, the party number doesn't get into daaru, talli, botal mode which is a big respite. Thank goodness for small mercies!
Overall, the music of Ishq Forever is just ordinary. One expected a lot more from the comeback music composer Nadeem Saifi.
Maybe the album would have been much better if one of Nadeem's favourite singers - Kumar Sanu, Akha Yagnik or Sonu Nigam - would have made their presence felt.
Rediff Rating: