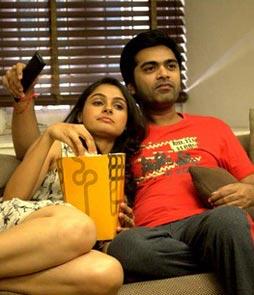 VTV Ganesh's Inga Enna Solludhu is a total waste of time, write S Saraswathi.

Inga enna solludhu..?.. jessie jessie solludha?" This famous line from the film Vinnaithandi Varuvaaya made VTV Ganesh and his distinctive voice very popular. Now a part of this very same dialogue is the title of his latest film.

Ganesh has not only written the story, screenplay and dialogue for the film, but has also played the male lead and produced the film himself.

The very talented Meera Jasmine plays his co-star along with Santhanam in a significant role.

Ganesh roped in long-time friend Simbu to play an important cameo, along with Andrea Jeremiah and K S Ravikumar.

The film is directed by Vincent Selva of Priyamudan fame and boasts of an excellent technical team with ace cinematographer R D Raajasekar, art director Rajeevan, editor Antony and music director Dharan.

Regrettably, despite the great team, Inga Enna Solludhu is a very ordinary film.

The entire film revolves around Ganesh (VTV Ganesh), a bachelor forced into an unwanted marriage, and his get-rich-quick schemes with his wife's money.

Ganesh's visit to his friend's house at a hill station is abruptly cut short by the shocking news that his wife, Raje (Meera Jasmine) has attempted suicide.

Rushing back to Chennai in a cab, Ganesh narrates his life history to the cab driver, Ezhumugam (Santhanam).

He tells him about his long and eventful
journey from bartender in Singapore to a bankrupt film producer on the verge of losing everything he owns, or rather that his wife owns.
He talks to him about his first love, a call girl (Swarnamalya), who after a brief affair with him, breaks his heart by getting back with her husband, who had previously deserted her.
This is followed by a period of no job, no money, but heavy boozing supported by his friend Raghu (Simbu). It is at this time that he meets Raje, who falls desperately in love with Raghu.
Unfortunately for her, Raghu is already engaged to Andrea. Deeply hurt and angry, Raje decides to marry Ganesh.
The scenes keep shifting between the flashbacks and the present car journey and neither seems to have an end. The film just seems to go on and on forever without any logic. There is simply no clue as to why Raje suddenly wants to get married to Ganesh, and the chemistry between them is ludicrous.
Ganesh's voice and distinctive style of dialogue delivery can be enjoyed only in miniscule portions; watching it continuously for over two hours becomes annoying.
He neither has the screen presence nor the acting skills to carry the burden of an entire film on his shoulders. Even Santhanam's one-liners lack the usual punch.
The film does try to send a message of the consequences of speculation and gambling, but it is a pathetic attempt that seems superficial and insincere.
VTV Ganesh's
Inga Enna Solludhu
is a total waste of time.
Rediff Rating: