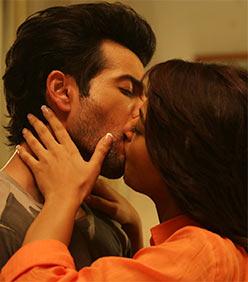 A stale plot with flatly executed scenes of retribution and a lacklustre leading lady; Hate Story 2 is too trivial to be erotic or thrilling, says Sukanya Verma.

It's easy to gauge the interest of an audience by the frequency of illuminated phone screens during a showing or when the atmosphere inside what should be an attentive movie hall resembles a noisy coffee shop where people have come in for chitchat and cappuccino with a random channel barking in the background.
Hate Story 2, which means to carry on the erotic thriller vibe of its 2012 predecessor, was the recipient of such exasperated indifference in the theatre I watched it this morning.
Under any other circumstances, I would have protested but this second one, directed by Vishal Pandya, in the Hate series is as gutless, brainless, soulless and sexless as the first.
Like Subhash Ghai's blockheaded Kaanchi, Hate Story 2 is a done-to-death vendetta drivel concerning a horrid politician with a creepy chess fixation (Sushant Singh), a miserable mistress with a disturbing stiletto fetish (Surveen Chawla) and a toy boy fancying her from photography class (Jay Bhanushali).
I have watched YouTube tutorials that offer more detailed camera tips and technique than what's taught in this lame photography lecture. Still what I witness immediately after is so mind-bogglingly daft; I resolve not to expect any shred of intelligence in the reels to follow.
The one where Bhanushali woos Chawla, a sampler:
"My girlfriend broke up with me. Because I typed LOL when she messaged about her pet dog's demise. LOL means Lots of Love na?"
"Silly, LOL means laugh out loud. You're just kidding, na?"
"But, hey, I made you LOL."
Lour out loud is more like it.

But Chawla isn't a woman of discerning taste.

She is incessantly impressed by Bhanushali's doltish antics and Hate Story 2 hastily proceeds to document what it believes to be the 'erotic' element of the narrative.

You know the keywords -- swimming pool, bikini, lip-lock, lovemaking and remixed version of an old sensual melody (Dayavan's Aaj Phir Tumpe in this case).
Only the duo in question perform the steamy bits with such a pained urgency, the desperation to get over and done with the gimmick soon passes on to the spectator as well.
Doesn't take much of an IQ to figure out what happens when a possessive, politically well-connected bully learns of his girl's liaison with another.

But Hate Story 2's laziness is in a league of its own, even a traffic jam demonstrates more character and unpredictability.
Forget logic, novelty or dynamism, Pandya's film doesn't even possess the sentimentality to produce a singular moment of sympathy for its supposedly battered heroine.
Chawla's transformation from a strange, stuttering victim to a gun totting avenging angel dodging cops, goons and press is preposterous.

On and off epileptic fits aside, her perfectly manicured fingers, salon-treated hair and distracting footwear obviously don't convey the anguish or trauma of someone who's spent a lot of time buried alive in a coffin.
Speaking of which, a friend of mine said the trailer of Hate Story 2 reminded him of I Spit On Your Grave 2.

Fleeting resemblances aside, I can now safely say HS2 is like Teletubbies in comparison to that utterly revolting torture porn. (But my deep-rooted hatred for those annoying colourful thingums beloved to toddlers is another story.)
This one might be low on gratuitous gore but it's no less excruciating.

I didn't care for Surveen Chawla's hysterical shrieks and glaring face.

In a dramatic scene, she almost yodels out Akshay-ay-ay-ayayay (Bhanushali's character) with the fervency of Tarzan. I didn't care for Jay Bhanushali's feeble contribution as eye-candy either.
And there's Sushant Singh, sporting a fierce moustache, doing the usual grunting/grimacing routine while regularly cracking a bunch of third-rate 'Baba kehte the' couplets that neither amuse nor amaze.
A stale plot with flatly executed scenes of retribution and a lacklustre leading lady; Hate Story 2 is too trivial to be erotic or thrilling.
The only memory I walked out with is this supremely funny scene where half-a-dozen cops round up on the spot of murder to arrest the killer and walk away leaving behind the blood-stained dead body still tied to a seat with Arijit Singh harping something about dil and wafaa.
Now that?

That made me LOL.

Rediff Rating: