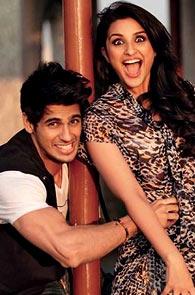 One expected just a fun-filled score, but composers Vishal-Shekhar have gone beyond that to bring us some soulful melodies as well in Hasee Toh Phasee, writes Joginder Tuteja.

One expects much from the music of Hasee Toh Phasee.

Coming from the house of Dharma Productions and with Vishal-Shekhar roped in, as well as youngsters Siddharth Malhotra and Parineeti Chopra, this promised to be a foot-tapping soundtrack.

Then, we have Amitabh Bhattacharya and Kumaar as the lyricists.

To be honest, the lyrics of the opening song Punjabi Wedding Song, take one aback. This seems to be yet another 'bhangra-shangra' number, that is, made for the wedding season.

However, as it turns out, the song prides itself on being in the bhangra style. And with the kind of energy that Sunidhi Chauhan brings to it, it's quite infectious. There's more fun during the antra portions, which adds some more peppiness. Benny Dayal does well in his supporting part as a singer.

Benny gets a bigger role to play along with Vishal Dadlani in Shake It Like Shammi, a song that pays homage to -- who else but Shammi Kapoor. The lyrics too are in line with the kind of fun element that was prevalent in Shammi Kapoor's films.

One can't miss the saxophone that comes in at just the right moments, adding to the nostalgia. With rock-n-roll elements coming into play, one waits to see how the song is picturised. That might decide the popularity it would enjoy in weeks to come.

Vishal Dadlani continues his flirtation behind the mike with Drama Queen, which starts off on a western note, only to turn into an out-and -out desi number.

Shreya Ghoshal may seem like an unusual choice for a song belonging to this genre, but considering her versatility (seen since the Ooh La La number from The Dirty Picture),
it is not at all surprising. Expect this number to find its way into discotheques as well as family celebrations and enjoy a long shelf life.
After three back-to-back dance numbers, Vishal-Shekhar embark on a more sober note with
Manchala
. Shafqat Amanat Ali is the man chosen for the job and though the
mukhda
here is the kind that could have otherwise found a place as an
antra
, one doesn't mind that at all once the hook comes on.
It's a love song with the characteristic Vishal-Shekhar stamp. Newcomer Nupur Pant does a good job. While the song should do well in a situational set up, how one wishes that Shekhar Ravjiani had brought in a solo version of his own as well.
In the same vein, is
Zehnaseeb
. Wait to hear Shekhar's voice as he indulges in a duet with Chinmayi Sripaada. Together they give a romantic rendition. The arrangement too is in line with the quiet and solemn mood that the makers had in mind. A special mention must be made of the appropriate lyrics.
The best of the love songs is
Ishq Bulaava
, which comes right at the end. It is surprising that this song has been held back because it is a beautiful piece of melody.
What further impresses is that it is sung by Sanam Puri who we heard in an altogether different mode in
Dhat Teri Ki (Gori Tere Pyaar Mein)
. The party feel of the latter gives way to a mushy
Ishq Bulaava
, which shows what he is capable of.
Newcomer Shipra Goyal makes her presence count in her debut outing.
The music of
Hasee Toh Phasee
delivers more than it promised at the outset. One expected just a fun-filled score, but Vishal-Shekhar have gone beyond that to bring us some soulful melodies as well.
Rediff Rating: