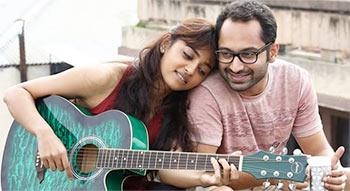 Haram loses its steam quite early, says Paresh C Palicha.
Editor-turned-director Vinod Sukumaran tries to give out a message to the young generations in his film, Haram. The film tells the story of a young married couple, on the verge of divorce. Through the film, Sukumaran comments that the younger generation get in and out of relationships without giving them proper thought.
Balu (Fahadh Faasil), a speech trainer in a BPO, cannot understand why his wife Isha (Radhika Apte), whom he loves, is seeking a divorce from him.
As the jigsaw puzzle of a narrative starts falling in place, we come to know that Balu and Isha are as different as chalk and cheese.
Balu is an intense person and loves referencing from books or poetry. Isha, on the other hand, is a fun-loving girl, who cannot think beyond a point. He grew up in Kerala with revolutionary ideals while she was brought up in a cosmopolitan culture with a military background.
They meet while working in Bengaluru and Balu helps her get over a relationship. Isha falls for Balu on the rebound and they get married. They shift to Kochi and soon, the cracks in their relationship start appearing.
The director does not keep his story insulated to the couple. He brings in Women's Day Celebrations and street agitations to help the hero find his revolutionary bearings in a new form and a prospective partner of his wavelength. But the film loses its steam midway even though its length is barely two hours.
Fahadh Faasil does a good job as the suave urban man, and this film does not drag him out of his comfort zone.
Radhika Apte is apt as Isha.
Madhupal, who has the twin responsibilities as a divorce lawyer and an agony uncle, does his job well.
Haram, meaning ecstasy of being in love, will be short-lived if your partner is not the right person is what the director seems to convey. But the way he does it does not leave us happy.
Rediff Rating: