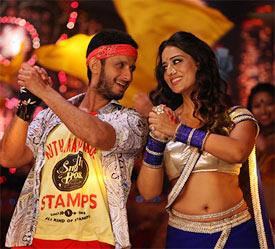 Gang Of Ghosts is one of those films that falls in the category of a bad remake, says Sonil Dedhia.

Last year, a Bengali friend of mine insisted I watch the super-hit Bengali film Bhooter Bhabishyat (which released in 2012). He claimed it was completely different from any of the films I would have seen in recent times.

I immediately picked up a DVD and was impressed with Bhooter Bhabishyat's unique storyline and subtle humour. It was refreshingly different from any Bengali film I had seen before.

A few months later, actor-director Satish Kaushik announced he was officially remaking the film in Hindi and it would be called Gang Of Ghosts.

The first promo of the film released earlier this year and the makers claimed it was India's first ghost comedy. Considering Gang Of Ghosts is an official remake, it's a rather bold claim. Besides, who can forget Mehmood's iconic Bhoot Bangla, made in 1965, that also starred Tanuja and our very own Pancham-da (R D Burman)?

It took less than 30 minutes of screen time for me to start questioning the need to remake such an acclaimed Bengali film.


Gang Of Ghosts revolves around, but obviously, a gang of ghosts who stay in various old and dilapidated mills and mansions in Mumbai. Most of them are being razed make way for high-rise buildings, swanky condominiums, malls and multiplexes, leaving the ghosts homeless.
The story begins with ad director Aditya (Parambrata Chatterjee) planning to shoot a television commercial in an dilapidated mansion in Mumbai. The mansion is believed to be haunted and has been locked for many years, after an actress who was shooting at the location supposedly saw a ghost.
As he waits for his crew members to arrive, Aditya meets Raju (Sharman Joshi), a struggling writer who offers to narrate a movie plot that he claims has all the ingredients of a blockbuster.

The tale is an unusual one and revolves around the spirit of the original owner of the mansion, Rai Bahadur Gendamal (Anupam Kher), which refuses to leave the mansion.

Due to the lack of space in the city, Gendamal gives shelter to ghosts who have been evicted from their homes-- a yesteryear superstar (Mahie Gill), a musician (Vijay Verma), a young girl (Meera Chopra), a chef (Rajpal Yadav), a refugee from Bangladesh (Saurabh Shukla), an army man (Yashpal Sharma), a representative of the East India Company (J Brandon Hill) and a taxi driver (Asrani).

These ghosts live a spirited life -- romancing, dancing and going on picnics -- till they learn a builder plans to raze the mansion and build an exclusive shopping mall. Their battle to save their home forms the rest of the plot.

Except for a few minor changes warranted by the fact that the film is now set in Mumbai, Gang Of Ghosts is faithful to Bhooter Bhabishyat.

The proceedings actually gain momentum in the first half, but are marred by unwanted songs and unnecessary spoofs -- for example, Facebook becomes Spookbook, VAT 69 becomes SAD 69 and Fosters becomes Ghosters. Unfortunately, the humour is not as appealing as it was in the original.
Satish Kaushik, normally a sensible director, succumbs to commercial pressure. He uses some really vulgar dialogues in an attempt at humour, adds in a completely annoying item number and some gimmicky VFX. The film could've have definitely been entertaining had the director paid more attention to the humour than the gimmicks and songs.

Gang Of Ghosts has its moments, but they are far and few -- watch out for Anupam Kher interviewing potential candidates who want to shelter in his mansion.

Of the ensemble cast, Anupam Kher and Rajpal Yadav, with their brilliant comic timing, are a treat to watch.
Saurabh Shukla, Yashpal Sharma and Asrani look comfortable in their roles while Parambrata Chatterjee and Sharman Joshi do decent job in their limited screen time.
Mahie Gill is annoying with her fake accent and tries too hard to fill the shoes of a yesteryear actress.

Meera Chopra, who makes her debut in Hindi films, isn't convincing at all. Her accent keeps on changing throughout the film.

Chunky Pandey and Jackie Shroff are a total waste.

One of the film's positives is that Kaushik ends it with a satirical message about the greed of builders who are rapidly replacing some heritage structures in Mumbai with malls, multiplexes and hotels.

But, if you really want some laughs, go with the original,Bhooter Bhabishyat. Gang Of Ghosts belongs to the category of bad remakes.

Rediff Rating: