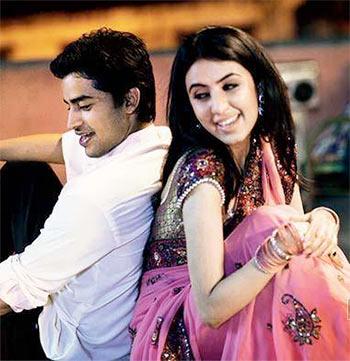 Fuddu is worth your time, says Namrata Thakker.
Sunil Subramani's Fuddu isn't an extraordinary film but it's worth watching once if you're done with the typical Bollywood masala entertainers.
There's hardly any buzz around the film, so I went without any expectations. And guess what? I wasn't disappointed when I walked out of the theatre.
In fact, it was fun watching this rom-com even though it starred newcomers.
The film's story revolves around Mohan (Shubham), who shifts base from Banaras to Mumbai and has a hard time adjusting to the city's lifestyle.
He arrives with certain expectations but is disheartened the moment he reaches his elder brother's home.
The match-box sized home is cramped and Mohan has a tough time getting used to it. He also has to deal with culture shock.
But all these elements take a backseat as Mohan quickly manages to get a job and then gets married to Shalini (Swati Kapoor).
That's when the story takes off.
Since Mohan is shy, he has a hard time getting intimate with his wife. As if that's not enough, they live with six family members in the cramped Mumbai house.
While Shalini tries her best to get close to her husband, the latter not only fails to recognise her hints, he doesn't even express his love.
This creates misunderstandings between the two and finally Shalini loses her cool and leaves.
Mohan's life gets turned upside down. How he rights his life again is the rest of the story.
Shubham's performance really stands out.
Though the other actors lend good support to the story, Shubham plays his part beautifully. At no point does he seem out of character. You empathize with him when he cries and you have a smile on your face when he appears confused and innocently tries to figure things out on his own. He has a good screen presence.
Swati Kapoor is good in whatever little screen time she has in the movie.
Fuddu's story isn't void of loopholes but the makers have tried to play around a new concept and that's commendable.
How middle class people in Mumbai adjust and live in their small houses is quite a relevant topic.
The end is silly but overall, the film was fine. It would have been better if the makers hadn't added songs, including the special number with Sunny Leone and Sharman Joshi at the end.
Fuddu may not be a great film but it's better than all those Bollywood movies which make oodles of money but have no story.
Rediff Rating: