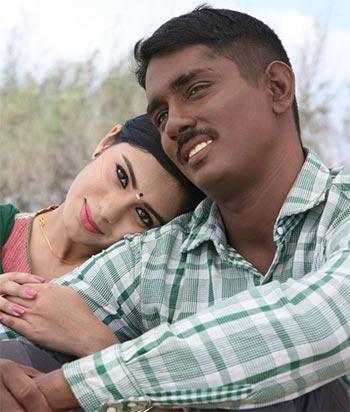 Enakkul Oruvan is an engaging and admirable effort by debutant director Prasath Ramar, says S Saraswathi.
Siddharth gives a remarkable performance in his latest venture, Enakkul Oruvan, a remake of the 2013 Kannada blockbuster Lucia.
The film is directed by debutant Prasath Ramar and produced by C V Kumar's Thirukumaran Entertainment.
A psychological thriller, Enakkul Oruvan narrates two parallel tales of the protagonist: a man's dissatisfaction with his own life and the deep desire to experience someone else's life.
Vicky (Siddharth) is an usher at an old rundown theatre. He suffers from insomnia and during one sleepless night, he meets some dubious characters, who introduce him to the world of Lucia.
Lucia is a drug that can induce sleep, but it also promises an added attraction: you can live the life of your dreams, in your dreams.
For Vicky, who is a simpleton, in love with a girl beyond his reach, Lucia offers a way to vent his frustrations.
In his dreams, Vicky is an extremely rich and famous movie star, called Vignesh, who has the world at his beck and call. Girls fawn over him and he can have everything he wishes for without a struggle.
Both stories move forward simultaneously, seamlessly shifting between reality and the dream world.
Every character in the film plays a dual role, with a slight modification.
Kannada actress Deepa Sannidhi plays Divya, an aspiring actor and a middle class girl working at a pizza parlour.
Other characters like John Vijay, Jog Japee and Mahadevan also have a dual characterisation.
With the sheer number of similar characters moving in and out of every scene, it is only due to the efforts of editor Leo John Paul that the film's chaotic screenplay makes sense.
The unconventional music that is the trademark of Santhosh Narayanan is perfect for this intriguing half dream and half realistic plot.
The unhurried pace and the dominance of the fantastical element in the film dilute the intensity of the narration somewhat.
The characters in the make-believe world do not inspire much empathy. But the climax gives the film a whole new meaning. It emphasises with the unreasonable logic that it is always someone else who is blessed with a perfect life: 'Your small life is somebody's big dream.'
Enakkul Oruvan is an engaging and admirable effort by the debutant director, definitely worth watching.
Rediff Rating: