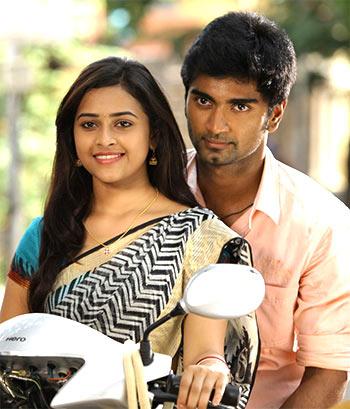 Eetti is a lighthearted entertainer that tells an interesting tale, feels S Saraswathi.
Director Vetrimaaran's former associate Ravi Arasu makes his directorial debut with a sports action film called Eetti, starring Atharvaa and Sri Divya.
The director tells an interesting tale of an athlete caught in crossfires of a dangerous fake note racket. The film is neither a full-fledged sports movie nor does it overdose on action. It is a good blend of sports, action, romance and sentiment with undercurrents of a medical element that keeps you engaged.
Jointly produced by Global Infotainment and Vetrimaaran, the film has music by G V Prakash Kumar.
Pugal (Atharvaa) is a star athlete with a national track record and much potential. But he suffers from a serious health problem -- he has a bleeding disorder called thrombasthenia. Even a small cut on his body can prove fatal.
Things are fine until he has to travel to Chennai for a sports meet. His problems begin when he unwittingly gives a stranger a lift on his bike. The situation spirals out of control, and Pugal's life falls in danger.
The fight sequences are cleverly picturised and the director deserves credit for not overdramatizing the story. The characters appear real, and even the medical condition is not milked for sympathy.
Though Sri Divya is getting repetitive with her girl-next-door characters but she looks pretty as a picture.
The film is undoubtedly Atharvaa's show all the way. His eight-pack abs has been in the news for quite a while now. All the hard work is evident and the camera happily lingers on a shirtless Atharvaa.
Cinematography by Saravanan Abhimanyu is a big plus for the film, but the music seems outdated. There are songs every 15 minutes, which are rather boring and disrupt the narration.
The diting could have been crisper; the first half is extremely slow with too many unnecessary scenes.
The film picks up in the second half.
Another big drawback is the comic element, which appears too forced.
What works for the film is the screenplay. The director aptly weaves all the sub plots together without appearing too cinematic. The romance is light and entertaining. There are no crude jokes, endless boozing or bloody violence.
Overall, director Ravi Arasu's Eetti is a lighthearted commercial entertainer that is worth a watch.
Rediff Rating: