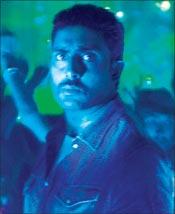 Sukanya Verma reviews Dum Maaro Dum.
Post YOUR reviews here!
What's with Abhishek Bachchan and guessing games? After doling out a vacuous whodunit two Fridays ago, the actor is back with another thriller, which builds itself around a million-dollar question, 'Who is Michael Barbossa?'
Well, of course, he's not the captain of Black Pearl, action sequence on a sinister-looking ship notwithstanding. Even as you mull over this mystery man's identity, director Rohan Sippy's latest effort fluctuates between sleek nostalgia and sluggish solutions. 
The first few reels of this not too bad-not too great fare are rather snappy. Following a montage of digitally-teased opening credits against Midival Punditz' ditzy, disjointed edition of RD's iconic riff, Sippy loosely employs the Rashomon effect to establish Sridhar Raghavan's (
initially
) racy plot, exposing the murky face of Goa -- around a teenage scapegoat (
Prateik
), a bereaved cop (
Abhishek Bachchan
) and a pair of estranged lovers (
Rana Daggubati, Bipasha Basu
) caught in the middle of drug mafia (
represented by Aditya Panscholi
).
It's all very grand to weave a high-strung yarn with keywords like narcotics, crime, trafficking and decadence involving a destination celebrated for its aggressive night life, exotic populace and fancy-free spirit. Say, Pankaj Parashar's Jalwa, even in its inspired skin (
Beverly Hills Cop
) and unconventional cast did it rather splendidly a few decades ago. 
And while DMD amasses all the superficial components to create a distinctly glamorous and masculine drama, it neglects to inject the screenplay with a vital dose of slyness or sensuality to truly justify the twin Dums in the title. Unless a bunch of random bare backs, sequined bustiers or Deepika Padukone showing up in a flimsy skirt and aired-to-boredom item ditty meets one's criteria of adrenalin-pumping sizzle these days.
What is impressive is Sippy's music video-ish presentation of vivid flashbacks – be it a blood stained Winnie the Pooh, a gleaming Vidya Balan radiating through a LCD screen or Rana-Bipasha's rift.  Previously too, the filmmaker demonstrated a knack for shooting scenes to their complete visual potential. Recall the seriously sexy South Mumbai of Bluffmaster? In DMD, he's aided by a discerning DoP as the latter plays with
light, angles, composition and depth of field to generate lingering images. It's such a relief to see Goa shine in Amit Roy's sun-kissed tones and bokeh-happy frames after enduring an eye-bashing suffuse of fluorescent in the
Golmaal
franchise. 
Only writer Raghavan's not aiming for cheerful. Once DMD starts roughing up, the body count just keeps going up indiscriminately at an alarming rate. At the same time, he's not willing to let it get too intense. There's an obvious attempt at crowd-pleasing, which backfires especially with the laughably out-of-place Gladiator references and awfully-timed liners like 'Mere paas maal hai.'
With hardly any ladies to work out the damsel-in-distress routine, Prateik volunteers to fill in the whiny victim slot with his trembling voice and innocent disposition. Like him, Bipasha Basu, too, would be better off with a special appearance credit. The stunner has precious little to do other than lend some oomph factor or mouth one of the most contentious dialogues of the film. 
Like Bips, her co-star Rana Daggubati is easy on the eyes but low on dynamism. As it is, his debut role is underdeveloped and one of the foremost reasons why DMD slips from ooh to oh.  His curt promotion from a secondary character of no significance to a torch-bearer of justice is absurd.
While on blunders, Aditya Panscholi ranks pretty high. After cutting a menacing figure in Striker, Panscholi reduces an influential kingpin to a dowdy hustler. Leave all that snarling to Govind Namdeo, will ya? Yes, he's there too. While the stars and veterans flounder, the lesser known Muzammil Qureshi as Mercy -- Abhishek's subordinate doing all the 'shit job' is by far DMD's most credible performance. 
Sippy's recurring leading man isn't half bad. As the brooding, dry-humored cop inside '
Drugs ka Disneyland
' with a zingy rap, Thayn thayn to rock to, Abhishek finds his comfort zone hurling slo-mo kicks and caustic jibes.  Just don't make him say stuff like, '
Baaki sab ke liye google hai
.'  Strictly Salman Khan territory, this.
The final twist is interesting but the makers' undecided, shabbily structured culmination of two hours of build-up punctures the possibility of a three star rating. It's pretty much how Abhishek tricks a bunch of small-timers into believing he's pumping deadly dope into their veins before a perverse admission, '
Chuna lagaya
.'
Rediff Rating: