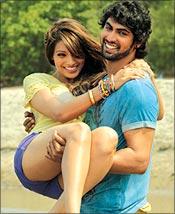 Raja Sen reviews Dum Maaro Dum.
Post YOUR reviews here!
Harry Callahan never broke into song. There are things truly tough men do and things they would only grimace at, and Dirty Harry, minutes after asking punks if they felt fortunate, never quite felt the need to explode into rap. To be fair, though, the fact that Abhishek Bachchan's ruthless cop in Rohan Sippy's
Dum Maaro Dum
inexplicably needs to do a bad Baba Sehgal impersonation isn't the only thing that makes us take his character less seriously.
The backstory is insanely dodgy: A cop who crashes his car, instantly killing his wife and child, finds a bottle of pills in the fist of the man driving. Its connection to this distracted-driver crash is tenuous, and rendered unfortunately amusing by an injudicious use of animation. Presumably if the grieving Inspector saw the corpse clutching a seat-belt, he'd have waged war against manufacturers of three-point harnesses. As it stands now, he hates drugs. Even though he was the one too distracted by his wife's Handycam to veer away from the oncoming collision.
Then again, that might be called nitpicking simply because this film never ever seems to be about plot or character. It's about style, and as the film opens and assails us with sexy segues, cool cutaways and hyperstylised flashbacks lit in psychedelic colour and shot in ultra slow-motion, we realise the film is more about flavour and finesse than about the fundamentals. It's all 'kewl' and slick and essentially a more cine-literate version of
Once Upon A Time In Mumbai
, very old wine in a spanking new hipflask.
It is this very over-reliance on hipness that makes the film increasingly difficult to take seriously. It is an angry cop actioner but his task seems, in the end, too easy. There isn't enough of a challenge at all, nothing to decipher or even to do, besides shoving some heads in and brutalizing a few gangsters, all of whom seem highly clueless. The big who-is-the-bad-guy puzzle hanging over the film is not just a basic guess, but — most ironically considering the hero's dialogue the teaser's been throwing at us — also an answer that literally could be found simply by googling. True story.
It starts off well, without question. Teen goalie Lorry (
Prateik Babbar
) fends off the ball with ease but fails to get a scholarship to a US university, which means separation from his girlfriend (
Anaitha Nair
). A shady friend tells him all can be solved if he smuggles some dope into the States because "they need a carrier while he needs a career." All goes hellaciously wrong, and we soon get to know all the leads and their stories: Inspector Kamath, cleaning up Goa his way; DJ Loki (
Rana Daggubati
) an earnest musician watching his friends go up in flames; Zoe (
Bipasha Bas
), a wannabe air-hostess who likes her dollar-bills conveniently rolled up; and Lorsa Biscuta (
Aditya Pancholi
), a French-bearded
gangster who apparently controls the drug trade across Goa.
As one may imagine, it does engage, especially in the early stages. Like Milan Luthria's film last year, we sit down deciding to buy into an old-fashioned cops-and-baddies actioner. But while all the lead stories elicit curiosity when they start telling their stories, the characters go absolutely nowhere in the second half, once they are all set up. In the end the problem isn't the lack of suspense in the climactic reveal, but rather the lack of audience interest. Marinating the film in all that gloss ensures we remain too apathetic about the characters to really care what happens to them — save maybe to a young and ambitious copper with atrocious taste in shirts. And so it works, but only in bits and bit-roles.
Abhishek Bachchan, more restrained than he has been in a while, is straitjacketed with a disappointingly one-note character, and seems to believe scowling is all it takes to be hard as nails. It must also here be said that watching Bachchan take down goons by the dozen is distressingly unconvincing, unlike his legendary father who is referenced, rather unnecessarily, a few too many times in this script — a song from
Don
is maimed, while a line from
Deewar
is used rather slyly — but the end result is a comparison nobody wants.
Many years ago, when a great film called
Lamhe
released, a significant part of the female populace was licking its chops at the prospect of a dishy model called Deepak Malhotra making his on-screen debut, only to have all hopes dashed as he showed off a chipmunk voice. Now, as women clamour to rip off Rana Dagubatti's clothes, the poor man has a 'Pallon' moment soon as he speaks. A most unfortunate choice of dubbing artist completely disables Dagubatti's character, and his significant screen-presence sounds over-earnest and smarmy, with all the texture of a television voiceover. Most tragic.
Prateik impresses yet again, but as the film goes on, he begins to embrace the film's overdone style and ham it up. Anaitha shines rather irresistibly, despite a brief role, while Bipasha really doesn't have much to do except look good, which she distinctly does. Aditya Pancholi, I assume, was called in simply because Gulshan Grover was busy. I'm honestly surprised he didn't call himself 'bad man' at some point.
Sippy obviously knows his flash, but after a point there needs to be more.
Dum Maaro Dum
is a very watchable film, but squanders tremendous potential in a puff of white smoke. As can be said the morning after a party with too much cocaine, all that eventually remains are a couple of good lines.
Rediff Rating: