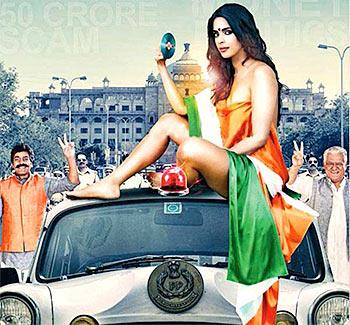 Dirty Politics is a garbled mess, warns Nishi Tiwari.

If I had to describe KC Bokadia's Mallika Sherawat starrer Dirty Politics in internet parlance, I'd say it's a typical troll plagued with false idealism.

It froths at the mouth at little to no provocation, launches into buffoonish tirades against its targets, completely misses the point, and, in the end, is reduced to nothing but serving as comic relief.
Dirty Politics opens with a laughable sense of urgency.
The shaky camera work will make your head spin, so will the hurriedly-delivered and endearingly self-conscious dialogues.
Anokhi Devi (Sherawat), an aspiring politician has disappeared and the region's most powerful well-connected local goon Mukhtiyar (Jackie Shroff) emerges as a prime suspect.
Nishchay (Atul Kulkarni) and Nirbhay Singh (Sushant Singh) -- as if their names weren't dead giveaways already, the cop brothers are constantly referred to as the most upright and brave men in the police force – arrest Mukhtiyar.

Unfortunately, the region's most powerful politicians Dinanath (Om Puri) and Dayal (Ashutosh Rana) wield their power to get Mukhtiyar out in a jiffy.
Seeing such blatant abuse of power, social activist Manoj Singh (Naseeruddin Shah) appeals for a CBI inquiry in the case.
Enter CBI officer Anupam Kher (who's also given a self-explanatory name like Satya Prakash Mishra), who is about the only dignified thing about Dirty Politics.
Trying to make sense of this garbled mess of a film would be a colossal waste of your time and faculties.
This supposed commentary on contemporary regional politics and woman empowerment misses the mark by at least a mile if not more.
Apart from the script, the makers also decided that attention to detail is not something worthy of their time and creative energies.
So Mukhtiyar Singh becomes Mukhtar, Mukhtar Khan and suchlike in the course of the fim, a social activist's daughter is seen reading Shiv Khera's You Can Win, and a corrupt judge's conscience suddenly awakens to stitch the narrative together.
That acting stalwarts like Om Puri, Naseeruddin Shah, and Anupam Kher are a part of such a travesty is but the tip of the iceberg.
Even Mallika Sherawat, the self-proclaimed seductress fails to deliver in the sex appeal and spunk department.
Her Anokhi Devi is utterly foolish and caricaturish-ly mercurial.
After Jackie Shroff's distractingly horrendous wig, Sherawat's steamy scenes are the most cringe worthy thing about the film.
This film is such a hatchet job writing-wise, even Naseer and Om Puri fail to lend any gravitas to it.
In the end, Dirty Politics represents the same online trolls it resembles -- a potential threat given its ability to misguide the masses with its half-baked ideas and smug ignorance.

On the entertainment front, watching the repeat telecast of even the most lacklustre matches of the ongoing Cricket World Cup would be more fun and engrossing than this travesty of a film.
| | |
| --- | --- |
| Rediff Rating: | |