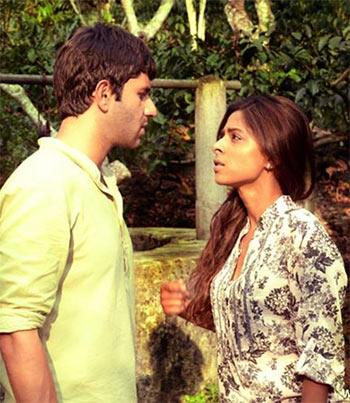 Coffee Bloom is a good attempt for a debutant director, says Nishi Tiwari.

Debutant director Manu Warrier's reflective and beautifully shot film Coffee Bloom is a unique coming-of-age story. It is about a man, who is wronged in love, and who, in his own warped way, seeks closure.
Dev Anand Cariappa (Arjun Mathur) is a bit of a slacker who masks his disillusionment with love and daily drudgery of life with his plans to renounce everything and become a sanyasi.
To say that his view of the world is misguided would be an understatement -- he's sold off his precious ancestral property (a sprawling coffee estate in Coorg), much to his mother's dismay, and listens to generic spiritual sermons on his earphones.
It's when his mother passes away in her sleep, still terribly sad about losing the land that had been in the family for generations -- 'Tu meri raakh bakhaarne ke layak bhi nahi hai (You aren't even fit to lay my ashes to rest),' -- are tragically her last words to her son, that his reality hits him.
When the gradual process of renouncing the world offers little solace, Dev embarks on his journey to fulfill his mother's wishes.
He journeys to his former estate to start afresh but fate has other plans.
At the estate, he bumps into his former girlfriend Anika (Sugandha Garg), who is now married to the good-natured, balding, and paunchy Srinivas Panicker (Mohan Kapoor) – the new owner of the estate.
Told through several disjointed (yet well-executed) flashbacks, Dev and Anika's history as young lovers 13 years ago pieces the story together and forms the basis of Dev's personal conflict.
While he quickly accepts Srinivas's offer to help him tend to the plantation to ensure a bumper coffee crop, his unresolved issues with how things ended with Anika tumble out of the deep recesses of his mind.
Shot on location in Coorg, the film offers scenic views of the majestic estate and the idyllic life its owners lead.
The conversations, however, are less poetic. The dialogues oscillate between verbose and flippant throughout the film, consequently diluting the impact the film's key moments could have otherwise had.
Arjun Mathur, as the conflicted and often childish Dev is impressive. Sugandha is a natural, as the more composed and sorted Anika. Her lilting voice complements her disposition.
However, it's Mohan Kapoor's over-eager, slightly buffoonish Srinivas that is most endearing.

Rediff Rating: