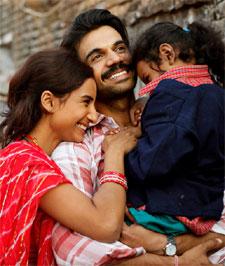 A hard, unrelenting film that doesn't give in to over-sentimentality, Citylights is like the city of Mumbai -- it beats you down and when you are broken, takes you in its arms and loves you.

Suparn Verma, who has directed films like Aatma, Acid Factory and Ek Khiladi Ek Haseena, raves about the film.
'Poverty is a disease,' says a character in Hansal Mehta's latest film Citylights.
Poverty is like working in a coal mine, you can clean yourself as much as you want but it embalms itself in your DNA.
We have all seen bad times, the degree might vary. We tend to romanticize that part during the good times; it makes us get up and go on because we cannot go back. It is our boogeyman -- that thing in the closet waiting for us if we stop moving.
Citylights is an official adaptation of British film Metro Manila -- a fact reiterated six times during the opening credits. But the manner in which it's adapted makes the film a story of India, a story of every small town family that dares to dream and moves bed and board to the city of dreams -- Mumbai.
Mumbai is a city that will break you, beat you down, spit on you and test you. If you still manage to get up, it will take you in its arms like a mother, love you and lull you till it breaks you down again the next day.
The only way to get what you want in this city is to love it but break it down because if you are not happy, there is no love in your heart.
City Lights tells the story of an immigrant from Rajasthan, who moves to Mumbai with his wife and daughter and their struggle for survival.
The film has a big heart and is a payback of sorts.
If Shahid was Hansal Mehta giving love to Rajkummar Rao, Citylights sees the latter reciprocating in kind to the director.
Rajkummar's performance captivates you from the first frame as he transforms his mannerisms, speech and style and draws upon the worst days of his life to have his hopes and dreams swim in his eyes. This National Award-winning actor deserves every accolade sent his way. The scene where he comes drunk to his wife and breaks down will leave you numb with its raw intensity.
Debutante Patralekha, as Rajkummar's wife, is a treasure trove of talent. Her delicate demeanour is a mask for the beast she hides within herself.
Citylights is just the start of the actress who is going to astound audiences in days to come. She gets under the skin of her character so well, especially when she is sparring against Rajkummar, she simply ceases to exist as the person, but vanishes under the skin of her character.
The surprise factor of Citylights is Manav Kaul in the role of Rajkummar's supervisor at a security firm.
The way he builds his character, starting off tongue-in-cheek, his story within stories -- symbolic of him entangling more and more in his own web -- exposing his vulnerability all with a smile on his face. I can't wait to see more of this fine actor, so confident of himself that he always pushes himself in the background, a rarity that makes him work.
It is a quality shared by all the accomplished actors in the film industry, be it Irrfan Khan, Manoj Bajpayee, Nawazuddin Siddiqui and Pankaj Kapur, they tend to draw away attention from themselves. This makes you notice them even more.
One of my favourite scenes in Kahaani is when Vidya Balan is alone in her hotel room, looking out of the window. She gave director Sujoy Ghosh the moments he and his editor Namrata Rao needed to create that pregnant pause tying up the story.
Rajkummar and Patralekha present Hansal and his talented editor Apurva Asrani (Satya, Chhal, Shahid) with such profound expressions and still moments, knowing what the director needs at those points in the story.
Hansal's choice of cinematographers has always been adventurous in his films. In City Lights, he works with Dev Agarwal whose minimal use of lighting and natural sources to create frames adds the right amount of grittiness and reality to the film, which has some amazing imagery of the concrete prison called Mumbai.
Composer Jeet Ganguly and lyricist Rashmi Singh leave a haunting impression with Sone Do and Muskurane's terrific use in the film.
Producers Mahesh and Mukesh Bhatt and Fox Studios deserve kudos for backing such a raw, visceral film.
What makes City Lights memorable is how Hansal Mehta infuses his struggle into it.
I have known Hansal for a better part of my life; we have seen both good days and bad. In this film, he gathers all his pain, pours it in a glass and makes Rajkummar drink it.
A hard, unrelenting film that doesn't give in to over sentimentality, Citylights is just like the city of Mumbai. It beats you down and when you are broken, takes you in its arms and loves you.
Rediff Rating: