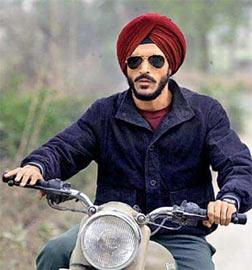 Bhaag Milkha Bhaag lacks clarity and coherence, writes Sukanya Verma.

You know the thing about unfortunate run-outs in cricket?

Sometimes a batsman inching closer towards a knockout innings runs so eagerly in between wickets that by the time he gets on the other side, his off-guard co-batsman has not even started.
Although Bhaag Milkha Bhaag involves a completely different sport, the aforementioned scenario sits as an appropriate analogy to describe how Farhan Akhtar's zeal is let down by Rakeysh Omprakash Mehra's distracted story-telling.
Legendary athlete Milkha Singh's life, on whom this feature is based, is truly inspiring and filled with a lot of exciting chapters that in the tradition of most biopics are dramatised and somewhat exaggerated to render it gripping and gritty.
It's a filmmaker's call as to what extent he will intensify the actual with the imagined and haggle with style over substance.
Sadly, in Bhaag Milkha Bhaag, Mehra goes overboard in his bid to look epic and promoting ad film aesthetics that focus on Farhan's remarkable physicality as he trains against Ladakh's majestic terrains, or swims in Australia's blue ocean with a pretty local in vintage swimwear or has recurring visions of the dreadful hour he witnessed the massacre of his folks that appear like a tacky VFX mash-up between Imran Khan's dreams in Jaane Tu...Yaa Jaane Naa and the dark, sepia-toned skies of Zack Snyder's 300.
Mehra's comfort with histrionics infused Rang De Basanti with its hard-hitting rebellion but that was the whole point behind its story.

Bhaag Milkha Bhaag fails to achieve that level of clarity or coherence, primarily because of Prasoon Joshi's faulty screenplay and sleepy editing by P Bharti, which appears both overwhelmed and clueless about putting together the many chapters of a sportsman's eventful existence.
So Bhaag Milkha Bhaag adopts the contrived route wherein everyone competing with the titular hero is entirely nefarious and out to break his legs or bully him like those Rajput dudes in Jo Jeeta Wohi Sikander and everything Pakistan implies hostile like those arrogant tyrants in every second jingoistic Bollywood flick.
Moreover, this indecision to project Bhaag Milkha Bhaag as either a) a man dealing with the painful memories of his childhood in partition era, b) the blossoming of a happy-go-lucky army man into a superstar athlete or c) why an individual doesn't want to visit Pakistan overlaps too often in this three-hour plus, flashback-within-flashback drama to ruin a potentially promising premise.
The last point, especially, makes no sense.

It could be answered in the same breath that it was asked by K K Raina but poor Pawan Malhotra is handed the unpleasant task of recounting the entire story, including Milkha's fleeting romance (which has NOTHING to do with the query) and other digressions before the film reaches its extended finishing line.
It's not that BMB is devoid of glorious moments.

Milkha's camaraderie with his friends in the army, especially his doodh-chanting aspirations in a cross-country run, his ghee-feasting gusto outside the police chowki or his slap-filled outburst at himself after losing a race in Melbourne.
Also, the portions with the younger Milkha (Japtej Singh) are quite memorable owing to this young actor's exuberant smile, effortless fervour boosted by Shankar-Ehsaan-Loy's roaring soundtrack and Binod Pradhan's beautiful frames, which nimbly change with the mood of its story.

It's also a relief to see Prakash Raj in a role that's far less bombastic than what he usually does in Bollywood.
Others like Malhotra, Raina, Divya Dutta (she exudes more emotion than all of BMB), provide the narrative its mandatory sighs and sobs but it's Dalip Tahil's uninspired, laughable casting as Pandit Jawaharlal Nehru that truly baffles.
There's also Sonam Kapoor with her carefully-styled messy hair in a role that lasts a few minutes. She's no gaon ki Punjaban but with such short screen time, there's little damage one can do.
Ultimately, the only reason to watch this disappointment is Farhan Akhtar's career-best delivery.

He visibly labours to acquire a stunning physicality, a body language that knows legs that run from legs that race and rinse off the urban texture of his personality to become the Flying Sikh who overcomes extraordinary battles -- of mind, body and society to emerge a victor.
And he does, leaving everyone behind.

Rediff Rating:



Also read: Review: Bhaag Milkha Bhaag looks dated