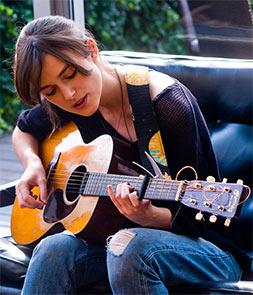 Begin Again speaks to the viewer like few films have, says Paloma Sharma.

Perhaps it is futile to write this.
No words I come up with up could do justice to the truth of Begin Again.
Nevertheless, I will will give it my best shot.
John Carney's Begin Again stars Mark Ruffalo as Dan Mulligan, co-founder of a record label, who has been fired from his job as an A&R agent for not having signed a new artist in over half a decade.
Keira Knightley is Greta, a heartbroken songwriter who is more interested in music than in fame.
A drunk and suicidal Mulligan walks into a bar, where he hears Gretta reluctantly play a song she wrote.

The song speaks of a situation similar to one Mulligan is in, and that stops him from killing himself.
He becomes hell-bent on signing her. But Greta isn't interested in becoming a star -- which is what Mulligan needs to make her, in order to save himself.
Eventually, he and Greta come to a compromise. She agrees to be signed on and he agrees to let her make music her way. However, this is only the beginning.
With no money, no studio and no label to back him, Mulligan sets out to take the music that saved him to the rest of the world.
There is nothing extraordinary about Begin Again and that is what makes it magical.
The film doesn't need fancy special effects or exotic locations to stand out. It leave a mark simply because it is comfortable with what it is and believes in what it has to say.
Begin Again relies on old school filmmaking techniques such as a solid script, an adept director and actors with more than one emotion, in order to make the film work.
Dan and Greta are people like you and I, albeit more talented and less lucky, who are trying to make things work.
Maroon 5 frontman Adam Levine makes an appearance as Dave Kohl, Greta's estranged boyfriend, who is now a famous musician, and actually manages to hold his own while sharing screen space with the leads.
The film is beautifully narrated, with Carney presenting perspectives of both Dan and Greta, and at the same time never letting the story falter as the film goes into flashback more than once.
Begin Again employs subtle, delicious situational comedy.
Yet, despite all of this, the real reason to watch Begin Again is the music.

You could close your eyes and listen to the soundtrack of the film and still know what had transpired.
It isn't just the songs but even the background music strives to be nothing less than a masterpiece.
As the film progresses, more subplots open up and miraculously, all of them come full circle in the end.

It is difficult to not have great respect for the director, John Carney, who has also written the film.
Unlike several other directors one may have observed in the recent past, Carney does not give in to the popular perception.

He does not bow down to the pressure of taking the story to where the audience would want it to go. Instead, he lets the tale take its own course and end as it should, when it should.
Although Begin Again is a slow journey, not a second of the 104-minute film could be called boring.
If you've known failure and heartbreak and woken up one morning unable to remember what it was like to be happy, Begin Again will speak to you like few films can.
Adam Levine's final performance will make you fall in love with the much tattooed musician. I know I went home and played Lost Stars until 3 am.
Begin Again has neither heroes, nor anti-heroes.

It just has people -- pathetic, frustrated, struggling people who are still clinging on to the hope that things will get better.
And it has music; and sometimes that is enough too.

Rediff Rating: