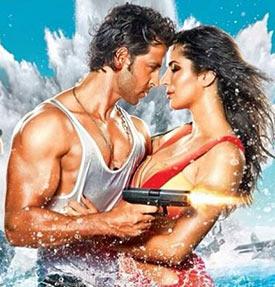 Some classy music here, writes Joginder Tuteja.
Director Siddharth Anand and music composers Vishal Dadlani and Shekhar Ravjiani raise the bar with Bang Bang's soundtrack. Ever since they came together for Salaam Namaste, they have provided classy entertainment.
Vishal Dadlani, Anvita Dutt and Kumaar contribute to the lyrics.
Tu Meri is one of the best songs released recently. It's quite a tease -- the song starts slowly, picks up after 20 seconds, slows down again, and then picks up momentum again. This continues for most of the four-minute piece.
It has a retro charm as well, and is a dance number for costars Hrithik Roshan and Katrina Kaif.
The softer Meherbaan is a complete contrast. If you liked Khuda Jaane (Bachne Ae Haseeno), you will love this one.
Shilpa Rao, who has sung both songs, is in her element here. But someone other than Ash King would have been a better choice for Hrithik's voice.
Shekhar's 'reprise version' is one you will want to play in loop. Excellent!
The opening bars of Uff remind you of the opening of Subah Hone Na De (Desi Boyz). But the similarity ends there, as Harshdeep Kaur goes on to render this sweet-n-simple number with a childlike innocence, almost like a nursery rhyme.
The song has some good twists and turns that ensure that in the action-packed narrative of Bang Bang, you won't mind the kind of 'thehrav' that Harshdeep and Benny Dayal bring to the song.
The title song arrives towards the end. Benny Dayal and Neeti Mohan make sure that the fun element is kept intact with Bang Bang. This dance number reminds one of the late 1970s/early 1980s Western pop scene.
The echo effect is reminiscent of that as well and while this easy-on-the- ears number is quintessentially Vishal-Shekhar, the real surprise arrives a minute into the song.
This is the point where the composers showcase the kind of magic they are capable of creating. It is wonderful to see them delivering a good dance floor number with chartbuster potential.
My only regret is that the album has just five songs. Just when one begins to warm up to the proceedings, the soundtrack comes to an end. But the musical team have created enough good numbers to entertain us.
Rediff Rating: