'Talwar se zyada dhaar chalane wale ki soch mein honi chahiye,' says the strategy-savvy Bajirao in Bajirao Mastani. Only if director Sanjay Leela Bansali had listened, says Sukanya Verma.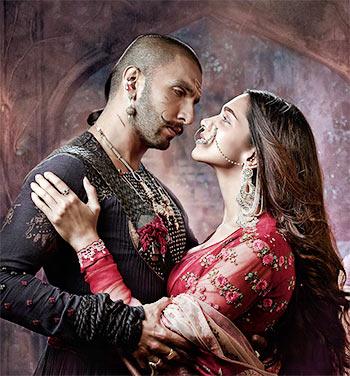 The challenge in telling a story that's from a different era stems from lack of familiarity but its mastery lies in recognising the enormous potential to re-imagine.
Filmmaker Sanjay Leela Bhansali is known to paint the screen with his envisaged imagery that's meticulously opulent and furiously dramatic. He employs this signature approach, whilst heavily referencing his ideal Mughal-E-Azam, in retelling the taboo romance between Peshwa warrior Bajirao and his second wife, Mastani.
Bajirao Mastani takes audacious creative liberties but is everything one would expect visually.
My eyes are still giddy from the splendour (camerawork Sudeep Chatterjee) they witnessed -- in the lamp-lit incandescence of the 18th century Maratha Empire; the barren, blood-embracing landscapes laid out for battle; the aureate reflections of the Aaina Mahal, the ethereal quality of a Raja Ravi Verma painting seen in Kashi's, Bajirao's first wife, backyard... It's all immensely satisfying, even if not adequate for the soul.
Not for one moment does one fail to see the effort that's gone into scaling this fancy-schmancy spectacle. But in its 158 minutes running time, one seldom gets more than a cosmetic glimpse of these incredibly complex personalities, products of a conservative, suffocating time and conditioning, wanting more from life than they're permitted.
Bhansali handles Bajirao's arrogance, Mastani's fixation and Kashi's dignity most sympathetically and relentlessly celebrates their stubbornness and stature in his favourite elements -- shringar, song and dance.
What contradicts his idealistic interpretation of Bajirao and Mastani is they're actually very fragile and flawed. More fascinating yet unexplored is their lifelong resistance to the monopoly of social, religious and political norms as well as Bajirao's lingering guilt, owing to this afore-mentioned association, before the magnanimous Kashi.
Passion -- all consuming, indescribable, unstoppable -- is the only explanation to a much-married Bajirao's attraction for Mastani and her zeal of pursuing him at the expense of her honour. I found it to be rushed, lacklustre. On the other hand, Bajirao and Kashi's chemistry has the magic of a snug marriage.
Peripheral to the plot, but a stand-out interject, is the rapport between Kashi and her supportive mother-in-law (a restrained Tanvi Azmi), especially seen in a lovely moment when the two women let their guard down and make light of the sad truth about the so-called power they hold. It is more compelling than the melodrama ensuing around its titular protagonists.
It's scenes like these that rescue Bajirao Mastani from stumbling into a gratuitous costume drama. As do its actors.
Ranveer Singh dazzles as the proud Maratha warrior torn between love, duty and guilt. From accent (speaking Marathi in Hindi, if you know what I mean) to body language (eyes raging in intensity), he grabs the tone of his character from the word go.
As a decorated Peshwa, he exudes an air of superiority that's expected of unbeaten valour, but it's his gradual breakdown through Bajirao Mastani's ambivalent chronology where his true brilliance shines.
I could not picture Salman Khan as Bajirao (the role was originally offered to him), except for the Malhari song. It's absurd, needless existence felt more like an out-of-place tribute to the superstar's Jalwa moves from Wanted.
Then there's surprise package, Priyanka Chopra, who's absolutely alluring and warm as an 18th century Jennifer Aniston. Simply put, it's Team Kashi all the way.
One can say volumes about her shimmering beauty as the surreal but sketchy Mastani (the script can't decide if it wants to highlight her as a warrior, lover, courtesan or mother). Sadly, it's also Deepika Padukone's most affected performance in a long time. But, praise the lord, she's so full of this "noor" Bajirao keeps complimenting her for, I almost pretend I didn't hear her awful Urdu dialogue delivery.
What I do hear and applaud to is this crisp line stated by strategy-savvy Bajirao: Talwar se zyada dhaar chalane wale ki soch mein honi chahiye.
Touché, Bhansali, touché.
Rediff Rating:

Do also read
Raja Sen's reviews of Bajirao Mastani and Dilwale