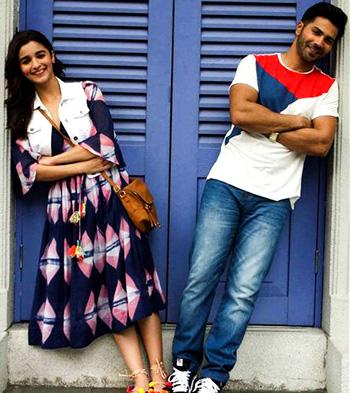 What makes Badrinath Ki Dulhania work, really, is the intent and the two principal actors, observes Raja Sen.
There is a pyramid in Kota, Rajasthan.
A pyramid, a Taj Mahal, a Leaning Tower... A conveniently miniaturised collection of the seven wonders are arranged next to the Kishore Sagar lake, a world of selfie-friendly replicas for newlywed couples to exploit.
This makes it an appropriate backdrop for Shashank Khaitan's breezy but sincere Badrinath Ki Dulhania, a film that has monumental ambition yet relies, modestly, on make-believe.
It starts with Varun Dhawan trying to grin. Too eager to flash his giddiness to the world, he's constantly being reined in by the photographer. Limits are hard for garrulous young Badrinath, and when he sees Alia Bhatt at a wedding, he falls hard.
'Vaidehi Trivedi,' he says, over and over, mesmerised even by the syllables of her name, minutes after she tells him to make sure he eats the halwa. It is like watching a young Salman Khan be charmed by a young Madhuri Dixit, but this boy acts better and the girl is winsome.
There is, in fact, a significant Hum Aapke Hain Koun...! hangover to the opening stretches of the film, not least because everyone wears shiny new clothes in every single shot, and Bhatt is never photographed without wind in her face, flatteringly caressing her curls. Even when she's indoors.
It's as if the film is selling conditioner. The hero's elder brother -- transparently modelled on the characters Mohnish Behl played in the Sooraj Barjatya films -- is named Alok Nath.
This overfamiliarity, is, I suspect, director Shashank Khaitan's way to lull the audience before pouring on the subversion. In Humpty Sharma Ki Dulhaniya, Khaitan had presented Bhatt with the supremely confident Shah Rukh Khan moment in the climax, outstretched arms and all, and once again he seems committed to giving the woman agency.
All the storytelling tropes seem familiar in Badrinath Ki Dulhania but Khaitan consistently veers away from the expected: this is a film where the boy is a virgin and the girl has a past, a film where she is the ambitious one and he does little, a film where, in a casual but striking reversal of Dilwale Dulhaniya Le Jayenge, for instance, the two lovers discuss how he must go back home and marry someone he's never even met.
Khaitan constantly promises the familiar and delivers something else. Other films echoed but tweaked include Shuddh Desi Romance and Band Bajaa Baaraat. Conceptually, this film says a lot, and even slips in a line about a man being a woman's groom rather than her being his bride -- potently doing more with a single line of dialogue than Ki & Ka managed to do with an entire film.
The hiccups arise from the storytelling, and the detailing.
The film's first half might be set in small towns, but there is no earthiness or texture. And while the idea of toppling the patriarchy is admirable, Badrinath Ki Dulhania aims these guns too literally: every single father in this film is a gruff monolith incapable of conversation, and must thus be eventually defied. It is a film, in short, with daddy issues.
What makes it work, really, is the intent and the two principal actors. Bhatt is as plucky and self-assured as the role demands, playing an intensely focussed girl very aware of her actions. She knows how stubbornly she needs to stick to her guns, come what may, and it's wonderful to see this strong-willed girl coyly, swiftly, fall in love without quite knowing it. Everyone else in the film settles.
Her sister dreams of Hrithik Roshan but lands up with a meek jaagran singer.
Vaidehi, however, is clear on what she wants: in a simply worded but powerful exchange, she tells a friend how respect means more than love.
Dhawan, who has the more demanding and dramatic role, nails it. Midway through the film some events take place that turn him into a frenzied and angry young man, and Dhawan wears even this rage with vulnerability, carrying a sense of disbelief at how far he has fallen from the boy with the irrepressible smile.
His cheery spontaneity is always genuinely cool -- it's great to watch him in his element, hurling up random children as he walks down the aisle of a mata ki chowki -- but his emotional beats are truly impressive. Here's a leading man who can turn on the Salman smoothness and get as climactically choked up as Shah Rukh, all while being his own man.
The other actor to watch here is Sahil Vaid, who plays Badri's buddy Somnath, a stock character made memorable because of the warmth the actor gives him. The rest of the film's performers are mostly wooden and disappointing -- especially in contrast to the well-picked bunch in Humpty Sharma Ki Dulhania -- and recite their lines with soap-operatic woodenness.
In a major misstep, Dhawan plays narrator and, his voiceover being in flashback, ends up sounding like a smug know-it-all. The pacing frequently flags, and the songs -- especially a tragically generic Tamma Tamma remix -- disrupt the narrative.
As with all films where the intent outweighs the product, this is a film best looked on with a touch of indulgence. As part of his nightly ritual, the elder brother sits on the roof of the Jhansi house and drinks whisky by himself.
One evening, when Badri unexpectedly pops up to join him, there is already another glass up there, waiting to be poured into. This certainly feels like an obvious continuity error, and probably is one, but maybe, just maybe, there's another way to look at it. Maybe the elder brother had been waiting for a bit of company.
When it comes to films like this, I know what I'd rather believe. Here's to hope.
Rediff Rating: