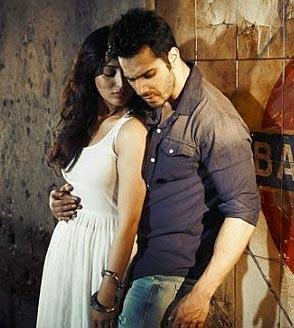 Badlapur is all fury and fog, a revenge saga that plays out with great eyebrow-singeing intensity, says Raja Sen.

Let the right one sin.
Right, of course, depends entirely on where we're standing.

Is this character in the right, or is he merely stage-right?

Or should we be standing here instead, where we can see what he's holding behind his back, an anniversary present or a bloodied knife?

In the world of noir, Right is less a fact and more a perspective -- a shifting perspective, even -- and one that must ideally be questioned.
No Hindi film director treats noir as finely and uncompromisingly as Sriram Raghavan, making the most of each shadow and each secret, feeding us lies and making us read between them, his films unfolding with the stark alacrity of well-thumbed graphic novels.

Badlapur is all fury and fog, a revenge saga that plays out with such eyebrow-singeing intensity that I could imagine a gravel-voiced narrator filling us in on dames and dreams and dark, stormy nights.
The absence of this all-knowing narrator -- or one, at least, made wiser by hindsight -- cleverly obscures Raghavan's own position in the whole affair: Is he showing us a simple good-versus-bad tale? Is he taking a side at all? Is he shifting allegiances from performer to performer nimbly, like a tightrope-walker with a roving eye?

Raghavan, like the film's leading man Raghu, plays his cards close to the chest and lets the audience simmer in anticipation as he slow-cooks the meaty, meaty plot and lets the story unravel.
As a premise, Badlapur appears simple enough.

A young man shockingly loses his wife and child, and is hellbent on revenge -- revenge that is hard to come by because he isn't sure exactly where to look -- and helplessly wrings his hands in despair as his world falls to shreds.

It is a fascinating, frightening origin story, in a way an antithesis of the Batman origin, where a child sees his parents shot dead; here Raghu, who fancied himself Batman, has his son, named Robin, snatched away.

The superhero threads run strong as the father emotionally tinkers with his son's Thor figurine.

By the time the film winds down, Raghu, who was struggling to grow a moustache when he became a father, has gone full-Thor: he wears a heavy beard and wields a heavy hammer.
On the other end stands Liak, a slimy criminal imprisoned for twenty years, the only man who knows who killed Raghu's wife and child.

He's a bristly one, making his way into many a jailyard scrap, but he holds his ground and continues to dream ambitiously -- often absurdly -- of escape.

What he lacks in terms of hope or future, he makes up for with swagger.

Razor-tongued, brusque, packed to the gills with suicidal bravado: say what you want of him, Liak is a character.

So much so that while this film might well be Raghu's story, the first half has a lot more Liak -- he gets more narrative heft, if not more screen-time.
Raghavan hides both their endgames very effectively, weaving a murky tapestry of femme fatales and false leads and fat policemen, the ever-intriguing narrative taking turns being sharp, funny and brutal.

There are ruthless scenes in Badlapur, moments where the background score is as hushed as the disbelieving, squirming audience in the theatre, and there are scenes dripping drily with the tense humour the director played with so wickedly in his Johnny Gaddar.

That film, in fact, is a fine companion piece to this one; that was sexy and relentlessly stylish while this is a moody, less aesthetically overt tale, and three Johnny actors shine bright amid the brilliant Badlapur ensemble.

Like in the new film, Johnny unravelled tightly, its protagonist almost always ahead of the audience, but only the last few frames of Johnny are about vengeance; Badlapur, as the superbly chosen name suggests, is a roaring rampage.
The acting is exceptional.

Varun Dhawan, playing Raghu, sheds his easy-breezy charm -- but, crucially, not his slightly hapless natural likeability -- and bubbles up volcanically, his eyes frequently doing the talking.

There are moments in which he single-handedly commands the film, scenes where we have no idea how far his character is willing to go, and Dhawan handles these with just the right amount of inflammability.

This is the kind of performance that opens up a career, and given what he did in Humpty Sharma Ki Dulhaniya last year, Dhawan looks to have the kind of range his contemporaries should fear.

Nawazuddin Siddiqui, meanwhile, coats his Liak in oil and desperation, creating a powerful yet slippery character -- one hard to get a handle on -- with a reckless, go-for-broke energy.

He might be a villain, but in his eyes he's the wronged hero making the most of it, and the balance Siddiqui strikes between loathsome and irresistible is striking.

You can't take your eyes off him.
There are some terrific women in Badlapur.

Yami Gautam looks lovely but doesn't quite get enough material to shine. Huma Qureshi (who also played Siddiqui's love-interest in the second Gangs Of Wasseypur is hauntingly good as a call-girl, especially when she distances herself while dancing for a customer she doesn't like, gyrating but disconcertingly enough avoiding all eye-contact with him.

Ashwini Kalsekar is super in a small role as a female private-eye -- the kind of character that demonstrates how everyone in a Raghavan script could well deserve their own spin-off movie -- and Divya Dutta is characteristically perfect as a woman who looks tired of knowing better than the men she talks to.

Radhika Apte is sensational as a wife willing not just to go out on a limb, but to kill herself doing it.

One particular scene where her character is forced into a corner shows her dig deep and give us an uncomfortably stark and superb moment, possibly the film's finest.
Alongside Apte, a major part of the scene-stealing is done by Kumud Mishra, playing a portly policeman who sums up the last decade and a half as 3 promotions and 2 bypass-surgeries.

He's clever, canny and almost alarmingly credible, and there are moments he quivers with apoplectic rage, fit to burst, where he's fiercely good.
Raghavan -- who kicks off this movie with a thank-you note to Dirty Harry director Don Siegel, and has a character reading Daphne DuMaurier's Don't Look Now on a train -- makes it clear Badlapur is less of a thriller (his earlier characters read James Hadley Chase on screen) and more introspectively chilling.

It is a film where a husband and wife, each innocent of their crimes, weep vainly to convince the other that nothing happened.

It is a film where an alert policeman spots something through an eye-hole but, a few inches below it, is another opening that could well be a glory-hole.

It is a film that broods, and one that refuses to put a fun spin on things, Raghavan preferring instead to put the 'dead' in 'deadpan.'

The last one-third of the film drags a bit -- the final lines of dialogue are jarringly laboured, especially compared to the rest of the film's flawlessness -- but overall this is a stunning, beautifully crafted film.

Like an expensive, gorgeously made revolver you just want to run your hands over even if you don't dare shoot it.
As the curtain falls on Badlapur, any argument on rightness feels both moot and muddy.

This is a noir world, its aftertaste like chocolate with 85% cocoa, and the answer is deceptively simple: Who gets right of way? The one in a greater hurry.

Rediff Rating: