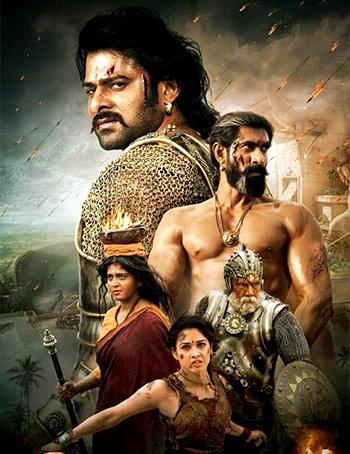 Baahubali: The Conclusion is a spectacular achievement, which not only deserves its place in history but also proves filmmakers should dream big and more often, feels Sukanya Verma.
When S S Rajamouli's multilingual Baahubali came out in 2015, it generated a euphoria that surpassed conventional applause.
Not only did its Amar Chitra Katha meets Middle-earth aesthetics give us a whopping, unbridled blockbuster, its cliffhanger climax regarding Katappa's motives prompted many inventive fan theories.
A rare distinction for Indian movies.
While most delays torment, here it amounted to a strange thrill in speculating what lies ahead in the second and final chapter of director Rajamouli's most ambitious venture so far.
And I have to say, it doesn't disappoint.
Baahubali: The Conclusion continues its tradition of grandiloquence and magnitude. Except this time, high drama, more than spectacle, is what lends its riveting tale of revenge and glory all its wallop and wizardry.
The action harks back to the resplendent kingdom of Mahishmati and the politics brewing inside jilted father-son Bijjaladeva (Naseer) and Bhallaladeva's (Rana Daggubatti) conniving minds even as the successor to their beloved thone -- Amarendra Baahubali (Prabhas) is busy taming unruly elephants, hunting down wild boars and making kshatriyas out of kaayars.
But before the focus completely shifts on his drawn-out romance (featuring a power play of pink versus blue arrows) with a fiesty princess Devasena (Anushka Shetty) while wandering about foreign lands to gain practical knowledge in the company of the ever-loyal and suddenly comic Katappa (Sathyaraj), Baahubali holds off to note Bijjala's meltdown and Sivagami's (Ramya) passive guilt.
Sometimes even a flash can be as telling as the flame.
Rajamouli's strength lies in utilising every oppurtunity to colour his distinctly black and white protagonists with more subtext than what most extravaganza-driven material allows.
What follows may evoke memories of Ramayana and Beta but Rajamouli's idealism and convinction in old school values lend it heft.
For all its kinetic battles and combats, it's not people but promises that cause trouble in Baahubali.
Equipped with a cast that's not only in tune with his vision but knows exactly where to hold back and when to give their all adds to Baahubali's might.
Always striving for a harmonious coexistence between sentiment and audacity, Rajamouli's relies on his unfettered imagination to create a landscape of architectural marvels and fantastical beasts.
A herd of charging bulls sporting horns that resemble blazing torches, a batch of gruesome warriors clinging to a giant post set on fire, a furious display of archery skills within a corridor swamped by hostile invaders -- there's tons of visual marvel on display.
Against such sterling creativity, the kitschily filmed songs, especially in their Hindi dubbed avatar, seem like a bit of a disadvantage.
There are times Baahubali shows the strain of expectation, especially in the second half's doddering pace, lacklustre combat and excessive, unconvincing use of VFX but when it communicates from a place of heart, it moves and enthralls.
Better viewed as a whole instead of parts, Baahubali is a spectacular achievement, which not only deserves its place in history but also proves filmmakers should dream big and more often.
Rediff Rating: