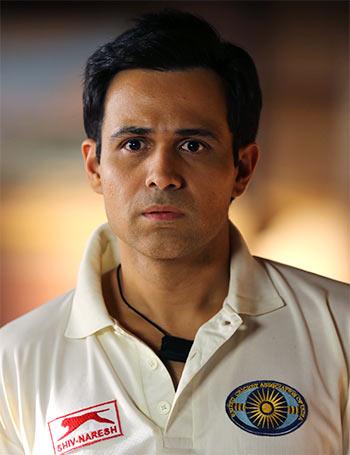 Who was Mohammad Azharuddin? More crucially, *what* was he?
Those are precisely the questions that, as the end credits roll after 132 minutes of run-time, remain unanswered, feels Prem Panicker.
"Who are you?" asks Steve Wozniak (played by Seth Rogan) of Steve Jobs (Michael Fassbender) in the midst of an incandescent argument in the Danny Boyle-helmed biopic on the Apple founder. "What do you do?"
The questions are equally central to any exploration, fictional or otherwise, of the life and times of Mohammad Azharuddin.
Who was he?
More crucially, *what* was he?
Those are precisely the questions that, as the end credits roll after 132 minutes of run-time, remain unanswered.
An extensive disclaimer at the start suggests that the movie is 'loosely' based on incidents in the life of Indian cricketer Mohammad Azharuddin, but does not purport to be a true, factual narrative.
Fair enough. In a biopic, accuracy is nice to have, but it is not mandatory.
To insist on verisimilitude is to confuse biopic with biography.
At its best, a sports biopic work as allegory, its protagonist a cue for the storyteller to explore the pulls and the pressures, the physical, emotional and moral conflicts that occur deep within what premier sportswriter Gary Smith once called "the furnace of the sporting psyche."
The story of Azhar was an unparalleled opportunity to explore the perplexing duality of one of modern cricket's most fascinating characters, to probe the darkness behind the trademark mirrored shades that because as much a signature of the cricketer as his tensile wrists. But thanks to plotting that is flat-footed and quintessentially Bollywood in its formulaic absurdity, it is an opportunity that writer Rajat Arora and director Tony D'Souza miss by several parasangs.
The set-up montage begins with a 'Manoj' preparing to tell to tape the story of fixing in cricket, cut to Azharuddin one boundary hit away from a century in his 99th -- and as it turned out, last -- Test appearance, cut to adoring crowds, cut to the designer tie being knotted over the square amulet that was his talisman, cut to the head of the cricket board giving Azhar the news that his name has surfaced in match-fixing allegations, cut to a CBI raid, cut to public anger expressed in flaming effigies and window-shattering stones, cut to friends-turned-rats fleeing the sinking ship...
The film uses a court case as its narrative device -- and risibly descends into broad caricature.
Appearing for Azhar is his childhood friend 'Reddy' (Kunal Roy Kapur), who is initially reluctant to take the case and who undergoes his moment of epiphany when Azhar declaims: 'Jinke paas dost nahin hota, unke paas kuch nahin hota'.
You can almost hear the trumpets heralding the 'punch dialogue' moment that Bollywood has borrowed from Tamil cinema's overheated template.
Arrayed against the plaintiff is Meera (Lara Dutta), the London-based hotshot lawyer with a reputation for shredding her courtroom opponents.
One example suffices to show the imbecilic nature of the 'court proceedings'.
Early on, Meera showcases her forensic skills by playing a video for the court. Azhar is shown walking back to the pavilion as the scoreboard shows '9' against his name. Follows another shot, again of Azhar walking back, this time after scoring just one.
'What is your score?' declaims Meera, pointing an accusing, and freshly-painted, fingernail at Azhar. 'Sirf ek run. Aapka sach aapka score bata raha hai!'
Cue dramatic music, in case anyone in the sparse audience missed the point that a telling point had just been made.
To which Reddy -- who for some unexplained reason spends most of his court time in a state of advanced catatonia -- responds by showing a close up of the same dismissal.
Azhar, it turns out, had edged the ball on which he had been given out LBW. And Perry Mason was spotted revolving rapidly in his grave.
That sequence sums up pretty much everything that is wrong with the movie, which in its essence is a series of unimaginative set-piece sequences strung together on a timeline of sorts, and driven by characters whose arcs are foreshortened and who are stripped of both character and motivation, while the narrative itself has been flattened with a steam iron and purged of any semblance of nuance, of insight, of motivation.
Key scenes play out in flat dialogue or overt symbolism.
The romantic sequences -- first with Prachi Desai playing a one-dimensional Noureen, and then with Nargis Fakhri, who portrays Sangeeta Bijlani as an outsize pout with legs -- play as bathos as unsubtle as the Emraan kiss is predictable.
As for the false climax in the courtroom and the big reveal at the end, the forced justification of the court verdict (intercut, for over-the-top dramatic effect, with vignettes from his final Test innings) and the absurd rationalization of the character's defining act are a stretch too far, even making due allowance for fiction.
Then there is Emraan Hashmi, who cannot be blamed for being only slightly more animated than the bat he occasionally wields. The script offers him nothing to work with, and he in turn offers us very little of real note, except an inconsistent imitation of his muse's trademark gait and a surface sincerity in his approach to the material.
The tagline of the film is 'Love him. Hate him. Judge him' but whoever came up with that line forgot that in order to do any, or all, of the three, it is necessary first to understand him.
In an eloquent summation of the dilemma of every cricket fan who has followed Azharuddin's career, Rohit Brijnath wrote (external link):
'He was my favourite because no sportsman ever made me struggle so much, no Indian athlete demanded so much inner debate, no cricketer so confused the senses. As a writer you'd compose a paragraph, delete it, try again, delete, unable to suitably capture his character, explain his motivations.'
That is the essence of Mohammad Azharuddin -- he defied all attempts to understand him, to put him in some conveniently prefabricated box.
As a batsman, he was sui generis. He played with the lightest bat of his era, using tensile wrists to transform it into a toreador's banderilla with which he inflicted on opposing bowlers the death of a thousand cuts.
Krishna Prasad, the current editor of Outlook magazine, once asked the supreme West Indies stylist Viv Richards who he most admired among his peers.
"Azhar," was the instant response.
"The shots everyone else plays, even Sachin, I can reproduce. But Azhar, maan, the man was magic -- whisk, whisk, whisk... I have no idea how he does the things he does."
The Proteas all-rounder Lance Klusener, who went for five fours in an over on debut in Kolkata, and then again for eight fours in two overs in the midst of an incredible Azhar assault in Durban, put it more simply: "It is like bowling to a revolving door," he said in exasperation overlaid with reluctant admiration.
In the field, he was equally a prototype -- all drooping arms and hunched shoulders and a deconstructed shamble that was the very antithesis of the athlete. And then the ball would come his way and for that one instant -- while he held on to an improbable catch in the slips or intercepted a fierce strike in the covers -- he would uncoil in a demonstration of supreme athleticism as fleeting as it was mesmeric.
But it is Azhar the man who most challenges our imagination. By all accounts, he was a simple lad from a middle-class family who doted on his mother and idolised, even fetishised, his grandfather.
His first few years in the game were characterised as much by a painful shyness and hyper-politeness as by his inimitable style of batting.
Opponents lauded his impeccable on-field manners; the off-field narrative revolved around his devotion to his wife and two young sons.
Then came what scriptwriters call the pivotal plot-point, in the early 1990s, when an in-your-face flamboyance began to typify both his batting and his off-field persona -- a period when he produced innings of unimaginable splendor as diligently as he acquired flash cars, designer suits and the ultimate accoutrement, a Bollywood B-list starlet on his arm.
"I want to write about a fellow who was two fellows," RL Stevenson said, of the impulse that drove him to churn out The Strange Case of Dr Jekyll and Mr Hyde over three days and nights of frenetic creativity.
He could have been speaking of Azhar -- the polite, well-mannered 'gentleman cricketer' who once, in Sharjah, lifted his shoeless foot onto the table and began to clip his toenails in the midst of a press conference.
Which was the real Azhar?
What triggered that metamorphosis?
Was it as simple as the need for money to fuel his altered lifestyle and to pamper his inamorata, as urban legend says?
Or did it speak to some deep flaw, some hidden fault-line of character, that crumbled under the searing pressure of mass adulation?
It is at its heart the story of innocence lost -- the innocence of Azhar, the innocence of unnumbered fans who invested in his magic, the innocence of a sport that had shed its shady origins and reinvented itself as 'the gentleman's game'. And it is this that makes the story of Azhar a natural for a biopic.
What we get, instead, is a fanpic -- a bland, badly-set soufflé of Bollywood tropes without a soul.
Rediff Rating: