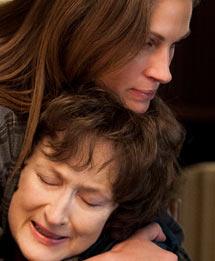 Meryl Streep and Julia Roberts may have been cast as the star characters of the story – they earned Oscar nominations in the Best Actress and Best Supporting Actress categories respectively -- but it's really the character actors who provide the most memorable moments in August Osage County, writes Nishi Tiwari.

Happy families are all alike; unhappy families are unhappy in their own ways – Leo Tolstoy begins in Anna Karenina.

In the case of the Westons, the unhappiness has permeated from their beings to their house and kids.
At the heart of John Wells' film adaption of Tracy Letts' Pulitzer prize-winning play August Osage County are Oklahoma residents Beverly Weston (Sam Shepard), a former poet and teacher, and his wife Violet (Meryl Streep).
Beverly's alcoholism is offset by his wife's pill-popping.

'It's a little paragraph we have in the contract of our marriage,' he tells Johnna (Misty Upham), a young native American women he has hired to take care of his wife.

They live in a house that is perennially drowned in darkness (even during blazing hot afternoons) and is in various states of disarray.

Their eldest daughter Barbara (Julia Roberts) shows early signs of her mother's fits of insanity, Karen (Juliette Lewis) – the middle child -- is endlessly navigating (with little success) the world of bad relationship choices while Ivy (Julianne Nicholson) is the mild-mannered youngest daughter who is emotionally disjointed from her twisted family.

Then there is Violet's overbearing sister Matie Fae (Margo Martindale), her good-natured husband Charlie (Chris Cooper) and their son Charles (Benedict Cumberbatch).

Beverly's sudden disappearance one day sets things in motion when the entire extended family gathers in the dingy Weston household.

Streep and Roberts take centrestage in a visibly formidable ensemble cast – also playing significant characters in the film are Ewan McGregor stars as Barbara's recently estranged husband Bill, Abigail Breslin as their precocious teenage daughter Jean and Dermot Mulroney as Karen's newest boyfriend Steve.

The most toxic and feared member of the family, Streep's Violet is a terror to be around but mellows down significantly in the presence of her equally fiery eldest daughter, who has a comeback for every slight, every vicious remark that comes her way.

They know how to push each others' buttons and seem to secretly revel in their vile arguments that get uglier as the story progresses.

While 18-time Oscar nominee Streep towers over everybody else in the film – thanks to her unparalleled acting prowess and the sheer intensity of the character she plays – the exaggerated histrionics get a little overwhelming as the story goes deeper into the family's murky complexities.

Streep and Roberts may have been cast as the star characters of the story – they earned Oscar nominations in the Best Actress and Best Supporting Actress categories respectively -- but it's really the character actors who provide the most memorable moments to the film.

Matie Fae's mysterious indignation for her own son that is amplified by even his most inconsequential or even imagined goof-ups, Mulronay's comically insignificant Steve, Karen's nervous giggling around her mother are but some subtly powerful moments that make a bigger impact than the overly dramatic and sometimes too loud fights between Violet and Barbara.

Dysfunctional families on the big screen have been a big draw in the recent years (Breslin starrer Little Miss Sunshine comes to mind) when tackled with extreme care.

While August Osage County starts off by giving you a small lump in the throat, it leaves one wondering in the end if you sympathise less with human failings when they are up in your face screaming for attention.

Rediff Rating: