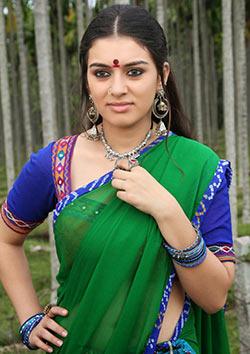 Director Sundar C lets his fans down with his cliché supernatural thriller Aranmanai, rants S Saraswathi.
Director Sundar C experiments with the horror genre in his latest film, Aranmanai, a supernatural thriller.
The film also have his signature comedy, as usual is spot on. But the horror elements leave much to be desired.
Films like Chandramukhi, Kanchana and more recently Yaamirukka Bayamey have been huge successes and so much was expected from Sundar C's Aranmanai. Unfortunately, the film seems to be inspired from popular Amman-based films of the 1980s and 1990s that glorified the invincible power of our Gods.
The film has a large cast including Hansika Motwani, Vinay Rai, Andrea Jeremiah, Raai Laxmi, Nithin Sathya, Santhanam, Kovai Sarala, Manobala and Sundar C himself.
Set in a village, the plot revolves around a family, who wants to sell their ancestral house. Since the signatures of all the legal heirs is required, the entire family lands in the house.
There is the newlywed couple Murali (Vinay Rai) and Madhavi (Andrea Jeremiah), Maya (Raai Laxmi) and her father, Kovai Sarla, her husband Manobala and son Nithin Sathya.
Santhanam joins the party as a cook with his two helpers.
Sundar C plays Ravi, Madhavi's brother.
The stage is set and quite predictably, we are introduced to some untoward happenings in the house. One by one, the servants of the house mysteriously disappear and the family members notice a terrifying figure around.
Madhavi is worried. She senses that the ghostly presence in the house is after Murali. Ravi, a non-believer, installs cameras around the house and begins his investigation. He notices one of the servant's daughters, a little girl; frequently has imaginary conversations with someone she calls Akka (sister).
Will he be able to uncover the secrets of the house?
Selvi (Hansika) makes an appearance only in the second half of the film.
Neither the CGI, which is fairly standard, nor the music by Bhardwaj deserves any special mention. The songs are rather tedious and the BGM does little to improve the scene.
The highlight of the film is undoubtedly the comedy, Santhanam is a laugh riot and so are Kovai Sarla and Manobala.
Hansika looks quite comfortable in her rustic look and gives an admirable performance.
Andrea too is excellent, Laxmi is as glamorous as ever.
But Vinay Rai seems miscast.
After delivering hits like Kalakalappu and Theeya Velai Seiyyanum Kumaru, Sundar C seems to have let his fans down with this cliché-ridden supernatural thriller. The narration moves at a slow pace and horror moments are practically non-existent.
Even the Aranmanai, around which the entire story revolves, is not impressive.
Rediff Rating: