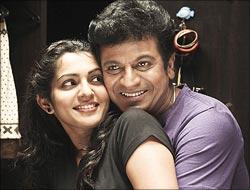 Srikanth Srinivasa feels Andar Bahar is a good family entertainer.

Debutant director Phaneesh S Ramanathpura has chosen a Hindi title Andar Bahar for his Kannada film to create curiosity among cine-goers.

The film starts with the husband making his newly-wedded wife believe what is not true. It subsequently goes on to show that what a couple needs most is mutual trust and faith.

Surya (Shivarajkumar) is a criminal on the run who lands up in a hospital to rescue his aide. He meets Suhasini (Parvathy), the head of the hospital, and takes a liking to her. He comes to know that she is afflicted with a disease and is not likely to live long.

Suhasini believes Surya to be an undercover cop and Surya's love for her prevents him from telling her the truth. He hires actors from a drama company to act as his parents and make her believe that he cares about family values.

Suhasini herself was deprived of her father's love as a child and even her mother's love after she dies. She sees a happy family in Surya and his hired parents.

Meanwhile, the police
is on the lookout for Surya for his involvement in encounter deaths. Does Suhasini come to know of Surya's activities and that he is a criminal? Does Surya reveal who he really is? The film answers these questions.
Shivarajkumar has turned in a splendid performance, excelling in action and emotional sequences. He is caught in a web of truth and lies and there are some close calls that are picturised well on him.
Parvathy lights up the screen whenever she appears and is a delight to watch. Kudos to Parvathy for sincerely trying to dub for herself in the movie.
Srinath is adequate. Arundhati Nag is okay. Raghuram is convincing as Surya's friend and Spoorthi in a brief supporting role is quite good.
Shekhar Chandra's camera work is good. Vijay Prakash's music is breezy.
Director Phaneesh could have put a lot more drama into his narrative. There are some flaws that the audiences can easily spot that could have been avoided. The film is a tad too long with some unnecessary scenes.
Andar Bahar is a family entertainer that is a good watch.
Rediff Rating: