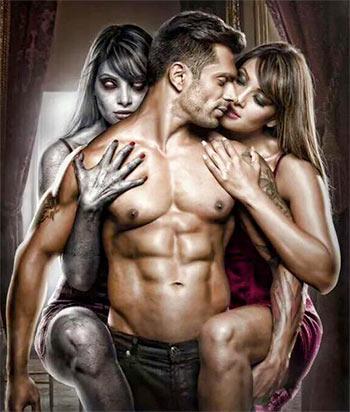 Alone is as good as a B-grade film, featuring several sequences that are very corny, says Paloma Sharma.
The case in point today, ladies and gents, is a most unusual one. This pale-faced, pale-eyed being has been popping up on telly and cinema hall screens for a while now.
Let's have a look at her file, shall we?
Common Name: Bhoot, Sanjana, Anjana, Bipasha, Woh.
Latin Name: Homo Undeadus
Habitat: Old mansions, abandoned rooms, shallow graves, protagonist's body.
Known Accomplices: Makdee, Bathsheba, Kim Jong-un.
Hobbies: Messing with electricity, staging suicides, swinging on the porch at night, walking in dark hallways, appearing in reflections etc.
Known Illnesses: Asthma, which causes heavy breathing.
This is where we close the file.
For your own good.
Trust me.
The director of Ragini MMS 2 and 1920: Evil Returns, Bhushan Patel, returns after watching one too many Hindi dubbed reruns of horror movies.
Sanjana (Bipasha Basu) is the surviving half of a pair of conjoined twins who were separated under mysterious circumstances. Now married to hotshot corporate dudebro Kabir (Karan Singh Grover), Sanjana lives a sad existence in her posh suburban pent house because hubby dear just won't spend time with her. Not even on her birthday.
Kabir, however, does arrange for a surprise birthday party for her where she very conveniently meets a tarot card reader, who predicts that something she lost will come back to her.
Despite getting a lovely birthday party, the high maintenance Sanjana is still annoyed with Kabir, who, if one were to judge from his dialouge delivery, is suffering from a very personal digestive problem.
Much marital conflict follows. Sanjana just wants to spend time with Kabir who argues that in order to afford their luxurious lifestyle away from Kerala (very specifically Kerala), he has to work as hard as he does.
Sanjana begs him not to take her back to Kerala, at any cost.
Just then, in a convenient coincidence, she receives a call from a hospital in Kerala saying that her mother is ill and needs her to come immediately.
Sanjana and Kabir return to her ancestral home in Kerala, where strange things start happening to her. Although initially annoyed with his wife's hysteria, Kabir observes changes in her behaviour that leads the skeptic in him to become a believer.
There are two kinds of horror films -- ones that creep up on you in the dark and play with your mind, and others that use the shock and scare method to raise the hairs on the back of your neck.
Alone could have been the latter, but it chose to take the easy route and not innovate, instead picking out tried and tested methods from other films.
Alone borrows it's make up from Aahat and sound design from pretty much every Vikram Bhatt film. Little children laugh creepily in the background (possibly at Basu's ugly crying, which tops any montage of Oprah's guests' ugly crying) and a pet dog disappears and suddenly appears half way through the film to bark at Sanjana, his mistress.
Alone is as good as a B-grade film, featuring several sequences that are very corny.
Awkward romantic songs are shot like a poor man's YRF music video.
Too many shots, especially in the song Katra Katra, that are either too high or too low for comfort.
There are far too many sub plots that, surprisingly, come full circle but in an unconvincing fashion.
Alone is a story that is forced to come together by unknown forces, to which Bhushan Patel contributes very little. There seems to be very little logic or sense of direction behind the scenes, that go on for so long that you feel like you're watching an Ashutosh Gowariker film.
I've never understood why teenagers run to their room and slam the door shut, screaming "Leave me alone" but after almost 150 minutes of this film, one realises that generations of teens have been running a dress rehearsal for a prophesied cinematic apocalypse known as Alone.
Rediff Rating: