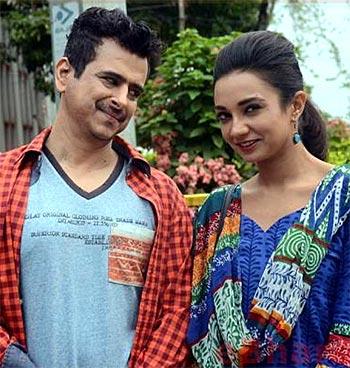 It's hard to root for Aisa Yeh Jahaan despite its beautiful concept, says Paloma Sharma.
Biswajeet Bora's directorial debut, Aisa Yeh Jahaan, brings to the silver screen a conversation that we, as a society, have been in desperate need of for a while.
Starring Dr Palash Sen and Ira Dubey, Aisa Yeh Jahaan focuses on the human mind, body and soul, and their growing detachment from nature.
Props to Bora for attempting a novel theme and Aisa Yeh Jahaan has other merits too, such as being India's first carbon neutral film, but good execution of a good idea is not one of them.
A mangled storyline that fails to come full circle only makes the film harder to process.
Aisa Yeh Jahaan follows the lives of Rajib and Ananya Saikia (Sen and Dubey), their daughter Kuhi (Prisha Dabbas) and Pakhi (Kymsleen Kholie), a child labourer who works for them.
Rajib longs for his home state Assam while Ananya is enamoured by the glamour of cosmopolitan Mumbai.
Other differences in ideology on life and child-rearing between the couple means Kuhi is caught in the crossfire.
Meanwhile, Pakhi struggles to survive in a dirty, noisy, alien city which stands in stark contrast of of her lush green, familiar village where her mother and all her friends reside.
Add to this racial biases against North-East Indians, a quest for identity and the need to preserve local culture, and you have two hours worth of social issues crammed in slots that were meant for plot points.
There is just too much happening in Aisa Yeh Jahaan.

Much like the city that it criticises, it ends up looking cluttered and gasping for breath.

Excessive preaching and too many subplots make it hard to follow the story.
As much as you want to like Aisa Yeh Jahaan, it's difficult to make sense of it in parts.
Furthermore, for a film that is gunning for recognition of Assamese people as a distinct cultural and ethnic group that is very much Indian, Aisa Yeh Jahaan makes the glaring error of not casting enough actors of Assamese ethnicity in important roles.
Aisa Yeh Jahaan has its heart in the right place put falters on several technical aspects too.

Except for a handful of picturesque shots of the breathtaking Assamese landscape, the camera work is atrocious, as is the editing.
However, the music partially manages to save the film.

While Dr Palash Sen and costar Yashpal Sharma do justice to their roles, Ira Dubey seems a tad out of place with a forced Assamese accent.
The star of the film is clearly Kymsleen Kholie.

Kholie emotes through the toughest of scenes with admirable ease and has a strong screen presence for her age.
Despite strong performances, Aisa Yeh Jahaan fails to engage due to its shaky storyline and scattered plot.
It is a half-baked attempt to create something beautiful.
Rediff Rating: