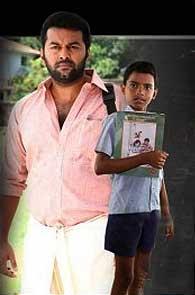 Malayalam film 101 Chodyangal is a touching tale, writes Paresh C Palicha.

It is believed that a child's smile can wipe out all your sorrows. First time director Sidhartha Siva puts this belief to good use in his National Award winning effort 101 Chodyangal, by making his lead actor Master Minon (the National Award winning child artist) do just that at vital points in the story of this film.

That does not mean this is a children's film. It just has a child in a pivotal role in a multi-layered tale.

We begin with Sivanandan (Murugan) losing his job in the sugar mill because he was the leader of its striking employees.

He has two kids Anil Kumar Bokaro (Master Minon) and Anagha (Baby Diya), the boy is in the fifth grade and girl is mentally challenged. His wife Sati (Lena) does manual labour under the Government's Employment Gaurantee Scheme to keep the family from starving. Anil getting midday meal from the school is an added advantage.

We see the first crisis in the family as the school stops the midday meals due to lack of funds and the children who can afford to bring food are requested to bring it and even share it with others.

Anil promises his favourite teacher Mukundan Mater (Indrajith) that he too will bring his share. The first day Anil gets his way with his mother with his tantrums, but, the next day he does not go to school because his mother refuses to give him food. It takes little convincing from Mukundan Master that he can attend classes even if he cannot bring food.

The crux of the film comes when Mukundan Master, who compiles cheap General Knowledge books that are sold in trains, for some additional income, decides to tap into Anil's curiosity and tells him to come up with 101 questions and promises that he will get Rupee one per question. And, how this mission transforms Anil and how he reacts to the happenings around him.
Sidhartha keeps the narrative simple and the technical gimmicks to the minimum (except for a digitally generated butterfly that flutters on the screen once in a while). This does not mean that the story is simple in any way, profound things from hunger to death are discussed without their weight being felt by the viewer beyond a point.
These things do have a tendency to become manipulative and tug at the heartstrings but care is taken to see that they do not cross the threshold till the very end.
Coming to the performances, there is not much to pick and choose from as everyone is consistently good just revolving around Master Minon (the little star deserves every recognition coming his way for this role), may it be Indrajith as his teacher or Lena as his mother. Initially, we do wonder why the father figure is not someone strong whom the child can look up to. But we realise that Murugan has aptly cast as we go along with the story.
101 Chodyangal is a winner just for its simplicity.
Rediff Rating: