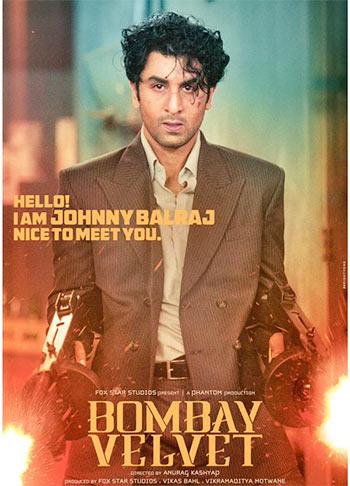 A look at the top tweets from your favourite Bollywood celebrities.
The first official poster of Anurag Kashyap's Bombay Velvet is out.

It's actress Anushka Sharma shared it on Twitter (left) and wrote: 'Welcome Johnny Balraj! Our first poster.'

Raveena Tandon seems quite thrilled with the way the film shaped out. 'Saw BombayVelvet! It's fantabulously better than what expected!Well done team!take a bow Phantom!Ps(I look smashing )hahahaha,' she wrote.

The film, which also features Ranbir Kapoor, Karan Johar, and Kay Kay Menon, will release on May 15.

***

Dhruv Ganesh passes away
Dhruv Ganesh, who made his Bollywood debut with the Amitabh Bachchan and Ben Kingsley starrer Teen Patti, passed away on January 28. The 29-year-old actor was suffering from tuberculosis.

R Madhavan tweeted: 'RIP DHRUV. My sweet costar from Teen Patti. My heart goes out to the family.. My you find bliss and eternal peace my dear friend. Saddened.'

Rajeev Khandelwal wrote: 'Extremely saddened to hear about the sudden demise of super talented Dhruv Ganesh, my co actor in Table No 21. Can't believe he has left us.'
***
How Shruti Haasan celebrated her 29th birthday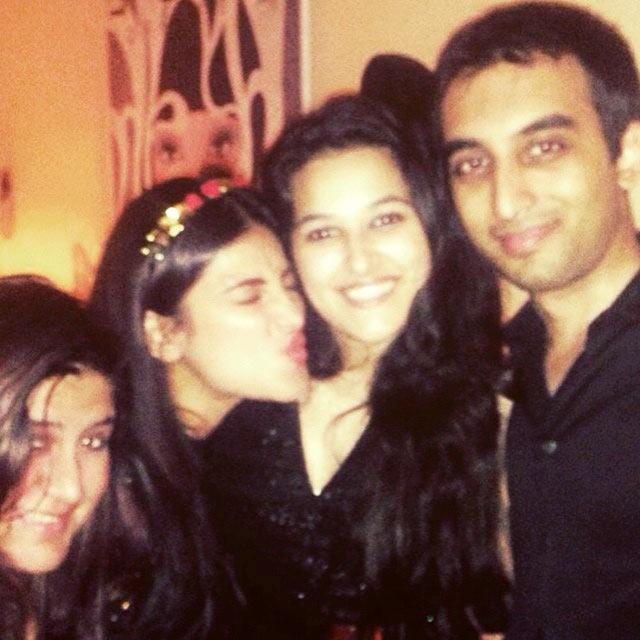 Image: Shruti Haasan with her friends
Shruti Haasan, who celebrated her 29th birthday on January 28, took to Twitter to thank her fans: 'Overwhelmed with all the love I'm getting on my birthday !!!! Thankyou so much !!! Love you xoxo.'

She shared a picture from the celebrations (above) and added: 'Thank you my darlings I love you always !!! What a lovely birthday #harrysjuhu #friendsforlife.'

Shruti will be next seen opposite Akshay Kumar in Main Gabbar.
***

Hema Malini completes shooting for Shimla Mirch

Hema Malini has started dubbing for Ramesh Sippy's upcoming film Shimla Mirch.

'Shooting for Shimla Mirch is complete! Now busy dubbing. I'm so happy that my film will be releasing soon. I'm sure my fans will be happy too. I'm always an artiste first. It is out of a desire to do whatever I can for the society tht I've entered politics,' Hema wrote on Twitter.

The romantic comedy, which also features Rajkummar Rao, Rakul Preet Singh, and Shakti Kapoor, revolves around a single mother and her daughter, who fall in love with the same man.

***
Rahul Khanna: Censorship sucks

Rahul Khanna's sex scenes with actress Gillian Alexy have been edited out in the Indian version of television show The Americans.

He took to Twitter to vent out his frustration: 'Hearing that some of my scenes may be cut from the Indian telecast because they're "too hot for Indian TV"! #CensorshipSucks #TheAmericans'

The season three of the American show will premiere tonight at 10pm on Star World Premiere.
***

Hawaizaada made tax-free in Uttar Pradesh

Hawaizaada, starring Ayushmann Khurrana, has been declared tax-free by the Uttar Pradesh government. Welcoming the news, his co-star Pallavi Sharda tweeted: 'Great news!! My bullandshehri blood is proud!'

The film is based on the life of scientist Shivkar Bapuji Talpade, who is credited to have constructed India's first unmanned plane.
Hawaizaada, which also stars Mithun Chakraborty, will release on January 30.