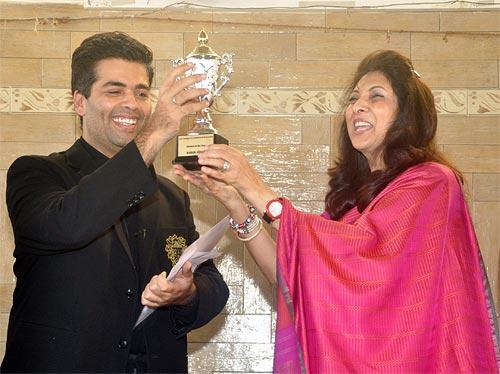 Karan Johar is busy promoting his film Student Of The Year, starring newcomers Alia Bhatt, Siddharth Malhotra and Varun Dhawan.

But the filmmaker was once a student of the year himself!

That's a statement endorsed by the teacher who taught him when he studying in Mumbai's HR College. Dr Indu Shahani, now the principal of the college, gives Ankur Pathak an exclusive insight of what Karan was like in his younger years:

"His college years were very idealistic. He was a devoted student, who excelled in his subjects and that automatically made him a teacher's favourite. At the same time, he was an active participant in the cultural activities that would take place all over town, like the Malhar festival of St Xavier's College," says Dr Indu Shahani.

But even then, Dr Indu Shahani claims Karan gave no indication then that he would become a popular Hindi film director some day.
Karan Johar enrolled in HR College in 1991 for a Bachelor's degree in Commerce.
 
"I taught him two subjects -- Principles of Management and Marketing Management. He topped the university in both my subjects in the final year," reminisces the proud teacher, who is also the Sheriff of Mumbai.
Was the brilliant Karan also a mischievous mass-bunker? "No, I never saw Karan loitering around wasting his time. He was almost always in class," she answers.
"As a teacher, I thought of him as a highly disciplined boy, who was very committed to academic studies. He was a very regular student and came early even for a 7am lecture. Teachers were scared of him as he would constantly ask them about the portion being incomplete and to clear a number of doubts," she grins.
 
So if you thought Karan Johar whiled away time on the basketball court romancing the college hottie a la Kuch Kuch Hota Hai, you'd be sorely mistaken.
"He scored an impressive 76.35 percent distinction when he graduated in 1993," she adds. "And mind you, this was a time when you couldn't download notes from the internet. Neither did you have the benefit of covering up through internals. It was purely text-book driven hard work and Karan was a genuine hard worker."
 
Was he popular in college? "He was friendly and was much liked by everybody in college; quite the popular kid. He had loads of friends," she says.
The principal says he did not indulge in harmless pranks. "Unfortunately, his discipline was such that I never could catch him doing any mischief!" she laughs.
 
When he applied to a French university to do a Master's degree, Karan got excellent recommendations from his professors.
Then, suddenly, academics took a backseat.
"One day -- I remember it was the latter half of 1993 -- Karan came to me and returned all the books he had borrowed for his studies," Shahani recalls.
 
Karan Johar had been enthralled by the magic of cinema.
"He told me he was joining films and not going to France. 'I am assisting Aditya Chopra on this movie called Dilwale Dulhaniya Le Jayenge. I won't need these books any more', he told me.
 
"I was surprised because this was slightly unforeseen but I was happy nonetheless. I told him 'The kind of discipline that you have Karan, it will see you through in any profession that you choose'."
As indeed it has. Johar is one of the most consistently successful directors of Hindi films.
 
So, does his one-time teacher enjoy his brand of cinema today? "I enjoy the films he makes because they are very enjoyable and relaxing. The entertainment value is high as a lot of young people work around him. He is always in touch with the youth. But I'm not sure if I enjoyed his Agneepath. It was well directed but too violent. I like the romantic films he makes," Shahani says.
 
Does the bright college kid stay in touch with his college? "Oh yes, he visits us often," she says. "Only recently he came with the actors of his film Student of the Year. We handed him the Student of the Year trophy which he very much deserved back when he was in the Class of 1993."
 
Photograph: Karan Johar receiving the Student of The Year Award from Indu Shahani.