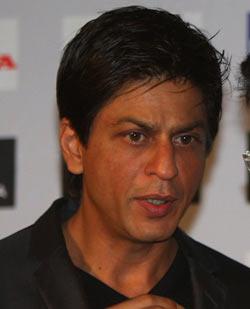 India's premier anti-tobacco watchdog, NOTE has expressed concern over superstar Shahrukh Khan's arrogant behaviour with which he time and again decides to  "trample" the law and smoke in public places.
    
"My main grievance is his arrogant demeanour with which he time and again decides to trample the law and smoke in
places where he can be viewed and emulated by thousands of viewers when he can smoke privately," Shekhar Salkar, General Secretary, National Organisation for Tobacco Eradication (NOTE), said.
    
Salkar said that Shahrukh's recent smoking in a stadium at Rajasthan during IPL, indicates 'his careless attitude
towards his responsibilities as an influential personality.'

Recommending tobacco eradication counseling for the filmstar, NOTE has said that smoking is a very powerful addiction and inspite of him repeatedly stating his desire to quit it, he hasn't been able to kick the butt.
    
"In my personal opinion he would never be able to because of his all knowing haughty persona," Salkar said.
    
NOTE, in past, had filed a case against megastar Amitabh Bachchan for promoting smoking through posters of his movie
Family. The superstar had admitted his mistake and assured not to repeat it.
    
"A similar incident happened with Ajay Devgan in Goa.

After receiving a letter from NOTE, he was very gracious in accepting his mistake and hasn't been seen smoking in public in Goa since," he said.
    
Responding to a question whether celebrities should be fined more than general public for violating anti-tobacco laws, Salkar said, "Morally it looks ethical and feasible but we live in a democratic country in which each citizen is considered as equal."

"But habitual offenders should be given harsher punishments after three monetary fines in increasing levels. A repeat offence should be punishable for atleast one day behind the bars," he said, adding this would deter the often habitual offenders like filmstars who usually think they are above the law and for whom the nominal fine is not a big deal.
    
Two years back, NOTE had suggested that a fine worth Rs 200 was suitable for the first offence but second time it should be Rs 500 and third time, Rs 1,000.
    
"In cases involving violation of law in hotel premises or public places, the manager of the hotel should be fined minimum Rs 5000 which will ensure a disciplined approach," Salkar suggested.
    
Jaipur court has asked Shahrukh Khan to appear before it on May 26 following complaint by Anand Singh, head of Jaipur
Cricket Academy, who had sought action against Khan under section 5/11 of Rajasthan Prohibition of Smoking Act, 2000,
which prohibits smoking in public places.