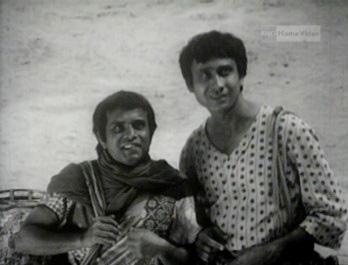 Goopy, a yokel who loves to sing but can't hold a tune to save his life, and Bagha, who plays the drum but has no sense of rhythm, are banished from their village for oppressing villagers with their atrocious music.

But they manage to please Bhuter Raja, or the king of ghosts, who grants them three boons -- they only have to clap each other's hands to eat whatever they please, travel wherever they wish and render listeners awe-struck with their music.

Equiped with these, Goopi and Bagha set out on a journey of adventure.

Such was the story of  written by Upendrakishore Ray Chowdhury in the early years of the 20th century and made into a film by his grandson, Satyajit Ray, in 1969.
And now the Children's Film Society of India intends to take the adventures of Goopi Gawaiiya Bagha Bajaiiwa to today's tech-savvy generation, with an animated version in Hindi. Directed by Shilpa Ranade, the movie centres around the original story-line.

"It takes off from the original story, adhering to the skeleton of the story-line and the characters, while adding twists and turns and some humour," she says.
Ranade had earlier illustrated Gulzar's Hindi version of Ray Chowdhury's classic tale published by Scholastic. "I had watched Ray's movie and had also been inspired by his illustrations of the story board," exclaims Ranade.

It was as she was working on these that Ranade realised that Goopy Gyne Bagha Byne could be made into an animated movie as well. "As I worked on the drawings I could see them come to life. I proposed this animation film to CFSI, whose then chairperson, Nandita Das, was convinced and thus the project took off in 2010."
Notably, Upendrakishore Ray Chowdhury wrote Goopy Gyne Bagha Byne for his son Sukumar Ray (who too wrote children's verse), while it was at the insistence of his son Sandip, who was fond of the Goopy-Bagha story, that Ray had thought of making the film, which won the national awards for best film and best director.

Sandip also made a sequel in 1992 -- Gupi Bagha Pheere Elo (in 1980, his father had made one, Hirak Rajar Deshe). Forty-three years later, Sandip seems as enthusiastic about Goopy and Bagha being reborn again in animation.

"The two characters had become iconic in the history of Indian children's films and with Gulzar saab re-scripting the plot for the animated version, I have high hopes of this endeavour. The Hindi version will take the adventures of Goopy and Bagha to a wider audience," he says. The characters are no longer under copyright, Sandip adds.
Today's young audience, fed an overdose of animations of mythological characters such as Chota Bheem, Ganesha, Ghatotkacha and Krishna, or " made outside the country with no connection with our sensibility", will welcome Goopi Gawaiiya Bagha Bajaiiwa, Ranade feels.
Goopi Gawaiiya Bagha Bajaiiwa was made at the Paperboat Animation Studio in Mumbai on a rather paltry budget of Rs 2 crore. "It is an indigenous production and I am very proud of the quality that has been achieved," says Ranade, given the constraints of timeline and a tight budget.

Monica Wahi, creative head of the CFSI believes that the classic story will pull audiences to the theatre. "The story lends scope for visual creativity," Wahi says.
CFSI is planning to release the movie by the end of this year.