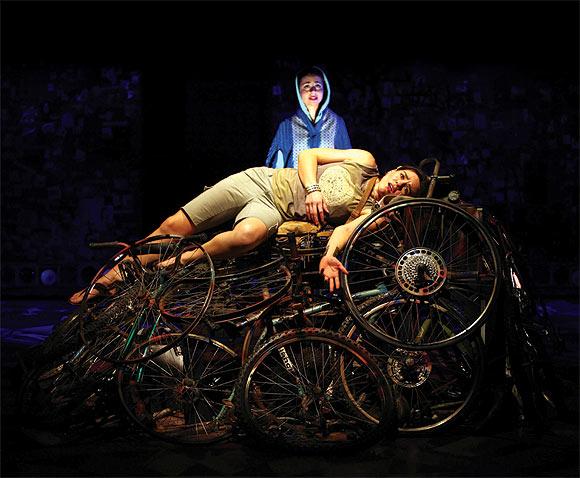 A new play looks at how Jesus might have spent his adolescent years backpacking in India, writes Arthur J Pais.

Playwright Lloyd Suh has read and heard a lot of stories about the missing years in the life of Jesus Christ. Quite a bit of literature postulates that Jesus spent those unaccounted years -- between 18 and 30 -- in India.

Suh was not interested in creating a new argument for the Indian sojourn. His play, Jesus In India, which opened recently in San Francisco and gained buzz as it travelled to a number of American cities before arriving in New York, is the story of young Christ encountering a wide range of experiences in India ranging from sensuality to the pull of Buddhism and Hinduism. 

When a professor told Suh that there is some credibility to the claim Jesus had travelled to India from the Middle East, he says he thought the idea was quite interesting. 'I remember talking about it with a friend of mine, an actor named Sunil Malhotra, and I told him how exciting it was,' he told Magic Theatre's NNPN Playwright in Residence Christina Anderson.
'I thought he should write a play about it, and we talked about how exciting it would be to have a teenage Jesus wandering in the East, which is not dissimilar to a contemporary college kid backpacking through Europe.'

But Malhotra wasn't going to write the play. So Suh -- whose previous work American Hwangap, about a Korean family in America was warmly welcomed by the critics two years ago -- started working on Jesus In India.
He says the play is also a kind of adventure in which Jesus of Nazareth journeys to the East with his friend, Abigail of Galilee, and confronts a world of maharajas, music and some really good weed... and Hindu and Buddhist philosophies. The play has a multi-ethnic cast with Mahira Kakkar playing a teenager who meets Jesus in India  as well as Jesus's mother, Mary.

'I hope that, in his teen angst, he's recognisable to people,' Suh said in the same interview. 'I think and hope that his dilemma will ultimately be familiar. More than anything, it's a rite-of-passage play, a coming of age, which is another story style that has always resonated with me.'

Jesus in Suh's play runs away from home at 18, when he realises he was not the son of Joseph. He finds it difficult to believe a divine intervention brought him into the world. He seems to be defying his destiny, joins a punk rock band, smokes weed, falls in love. But he realises that the pull towards freedom could go against the divinely ordained mission for him on the earth.

Forty years ago, the musical Jesus Christ Superstar bent the New Testament but the show, which became a hit across the globe, did not create a Jesus that is even a fraction as radical as the Jesus in Suh's production.

Though conservative Christians or straight-laced people belonging to any faith may not easily embrace the show, the playwright insists his rebooting or prequel to the Biblical story is for everyone.

'It's about humanity, coming of age, finding your way,' Suh says in the production notes. 'It's the lost chapter, before Jesus became Jesus. You don't have to know the Biblical story of Jesus or even be religious to appreciate the play. I think, in the end, it's about transformation and humanity and nothing is more universal than that.'

While a trade publication did not like the show, the San Francisco Chronicle gave it an enthusiastic reception though it also admitted not everything in the show, including the motivation for Jesus' strange journey, was convincing

'It's easy to identify with the stoned teenagers in Jesus In India,' the review said. 'Playwright Lloyd Suh brightly captures the hazy reactions, silly non-sequiturs and ephemeral blissed-out epiphanies of weed-stoked adolescent male bonding… He also has more fun with the words 'mung bean' than anyone has a right to. And director Daniella Topol and her creative team not only mine the comic riches of the script but also adorn it with the most ingeniously delightful camel ever seen onstage.'

Kakkar believes that despite the hilarity and jokes and irreverent happenings, there is plenty of depth to the show.
Actress Mahira Kakkar, who has done her share of classical plays, is always eager to get to know the work of relatively new writers and work in their plays. That's how she was drawn to Lloyd Suh's Jesus In India, an unconventional play that mixes speculations with New Age music.
She plays an 18-year-old woman, the sister of a punk musician, who befriends Jesus with her sensuality during his sojourn in India, and she also portrays Mary, his grieving mother.

'Mahira Kakkar does striking double duty as his giddy little sister Mahari, Jesus' personal groupie, and as a calm, firm, all-knowing Mary, Jesus' mother,' wrote the San Francisco Chronicle.
"Among the many things that impressed me about Lloyd's writing is that it is not condescending," Mahira said soon after the play had its world premiere in San Francisco last week.
"There is no celebration of Indian exotica in his work. It is complex and yet there is humour in it, It is a lively coming of age show which is also about taking responsibilities of the world around you and it can resonate with audiences not only across America but anywhere in the world."

She cannot say which role challenged her more, Mahari or Mary. "Here is a woman who knew at one point that her son would be crucified, and even though she knows the value of sacrificing him for the sake of humanity, she will also have her doubts and dilemma, and wonder if she could save him from death."

Her character as a young woman is also part of a growing up process. "Mahari is an orphan and she is always feeling she is missing something," explains Kakkar.
"When she meets Jesus, she feels at once that he is linked to her destiny. But the relationship is not easy. She gains a lot as she comes to know Jesus but it is just about feeling better about herself as she will be growing spiritually too."

Since she began working in American theatre, after graduating from the Julliard School, Kakkar, who grew up in Kolkata, has gone on to become one of the most recognised and wanted artists in the off-Broadway as well as regional theaters. There is hardly any major city she has not performed in and many of her roles are colour-blind. Soon she would be back in New York in Wendy Graf's one woman show No Word in Guyanese For Me, about being a Muslim, immigrant and gay in New York.

It could be one of the toughest assignments for Kakkar, as the complex play will also explore parental bonds and the efforts to reconcile sexuality with religious faith.
 
She has never been worried right from the start about the lack of Asian roles.

"You must be prepared to take up any role and get under the skin of the character you are playing," she has often said. "And don't be ever self-conscious that you are playing a different nationality."