Renuka Shahane is making a comeback.
The television actress -- famous for her roles in Hum Aapke Hai Koun...! and in Surabhi… and for her Madhuri Dixit lookalike smile -- will now direct a Marathi film.
Shahane plans to start off with her mother, Shanta Gokhale's novel Rita Welinkar as the story of her first film.
Rita Welinkar tells the story of a girl who shoulders responsibility at a very young age. She gradually gets involved with her boss who is like a father figure and mentor to her. The novel deals with the complexities of that relationship and how the girl conquers the various difficulties in her life.
Shahane's decision to direct a film did not happen suddenly. "It was always there in the back of my mind. In 1990, I even did a course on film aspirations from Film and Television Institute of India. Later, I wanted to do a three-year course on filmmaking, but director Sooraj Barjatya (with whom she had worked in Hum Apke Hain Koun...!) dissuaded me from doing it and told me that there is no need to do that course to become a director," says Shahane, with that famous smile.
Shahane has already dabbled with a bit of directing. Did you know she was an assistant director to Vijaya Mehta for Lifeline?
"I always wanted to be as much behind the camera as in front of it. It was always there within me. During my first pregnancy, I completed a full script for a film. But then I also wanted to do something in Marathi so I took up my mother's story.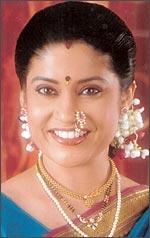 "I have selected Ashwini Kalswekar for the lead role. The role of the dear friend of the main protagonist I am going to offer to Rajeshwari Sachdev. If she is not willing to do it, I will step in."
She adds smiling, "If I am acting, my husband -- actor Ashutosh Rana -- will act as my husband."
Conversation moves to the latest television phenomenon: good serials dying an unnatural death because of poor TRP ratings. "I was very happy with the concept of Jeete Hain Jiske Liye. It had a very good team and everything went well for the first few episodes. But I guess where we went wrong was we could not change plots overnight, like most other serials today," says the actress, dejected with the fate of that serial. "I do not want to play character roles just to do new shows."
Does Shahane have misgivings about the roles she has done earlier "No big regrets. When I look back at my career, I feel very satisfied with the roles I have played. Of course, when I look at them today, sometimes I wonder that little has changed over the years. I played almost all the roles that you see today on television many years back. Frankly, I am quite happy with my role in the big screen as well."
Shahane was one of the first hostesses of a reality show -- Sa Re Ga Ma Pa. What does she feel about today's reality shows? "To be very honest with you, I don't like the idea of a celebrity reality show. The fact they are talented is the reason why they are famous. I would rather go and find new talent from somewhere. Shows like Indian Idol, Sa Re Ga Ma Pa have done a marvellous job. They have created a platform for people who are talented but don't know where to start.
"To be honest with you, I would like to participate in a dance-based reality show because this is something I have never tried. And the audience has never seen me with Ashutosh!" says Shahane.
But why aren't her fans seeing her often these days? "Many people think that Ashutosh is responsible for my absence in the glamour industry. But let me take this opportunity to tell you that Ashutosh is an inspiration for me. I took a break because I am the mother of two children and they are growing. So I want to be with them more. While I am very ambitious, I am not a career-oriented individual at all."
Shahane credits her mom for her comeback. "She takes care of my children whenever I am out for work. She is my biggest helping hand. As of now I want to concentrate on my film and most probably the shooting will start from July."