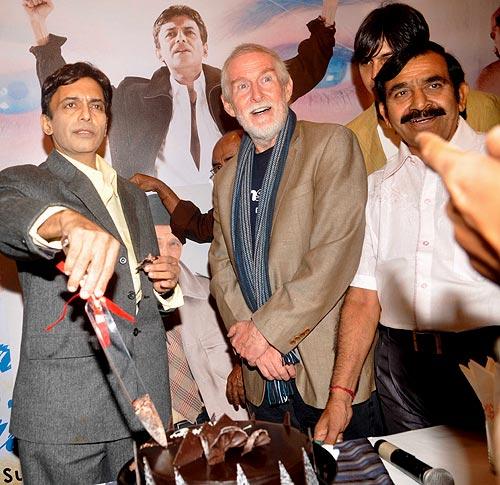 September 26 marked Dev Anand's 89th birthday.
At Sun N Sand in Juhu in Western Mumbai suburb, the late legend's favourite hotel where he held most of his filmi parties, his son Suneil Anand celebrated his birthday by cutting a cake along with thespian Tom Alter.

Anand passed away following a heart attack in December last year.

On his birthday, his son cut a cake and announced a film called Vagator Mixer.

'My father wanted to make an English film and the last time we were in London, he wrote three scripts," Anand said.

Vagator Mixer is written by Suniel Anand.

Tom Alter, who remembered Dev saab said 'my daughter shares her birthday with him.'

The veteran actor was the assistant supervisor at Woodstock School Mussorie where Dev Anand's children Suniel and Devina studied.

He spoke of an incident when he came to Mumbai for the first time in 1972 to go to Pune Film Institute and had no place to live in Mumbai. He knew just one address -- Dev Anand's -- as he had posted many letters written by Suniel to his father when he was in school.

He lived with the Anands for two days.
The actor said, 'He was the most amazing human being I've ever known. I started my film career in a small role with Dev saab in a Chetan Anand's film Sahib Bahadur' after graduating from film school.'

Photograph: Pradeep Bandekar

Watch the videos here: Tom Alter remembers Dev Anand
Suneil Anand launches his film Vagator Mixer