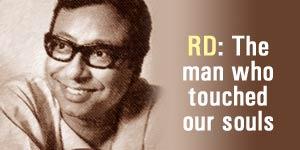 Rahul Dev Burman made a lasting impression in most of our lives with his music.
As we celebrate this music composer's life, we asked readers to
write
in to us, listing 25 of their favourite RD Burman songs.
Sreedhar
not only lists his top 25, he also talks about the infuence Pancham had on his life.
A decade ago, I was preparing for a medical entrance exam. On January 4, I left my home to attend my classes after a tiresome one-and-half-hour journey. While chatting with my friends in class, someone said, 'It's sad to hear about the death.'
When I asked who died, I was shocked. It was my favourite music director R D Burman. I was completely out of mind. All of a sudden, everything felt silent. I could not stay in class so I left immediately. I went to Lake Hussain Sagar and sat for an hour, dejected.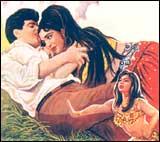 From Aao twist kare (Bhoot Bangla) to Pyar hua chupke se (1942: A love Story), RDB has carved his name in Bollywood music and has always stayed ahead of his times. Most of the recent remixes were scored by RDB. Chura liya (Yaadon Ki Baaraat), Main chali main chali (Padosan), Jaane jaan, Saamne yeh kaun aaya and Nahin nahin abhi nahin (Jawani Diwani), Piya tu ab toh aaja (Caravan), Kehdoon tumhe (Deewar) Hum bewafa hargis na the (Shalimar), Baahon mein chali aa (Anamika) are some examples.

Most of the Rajesh Khanna and Amitabh Bachchan hit numbers come from the RDB-Kishore Kumar combination. Filmmakers like Nasir Hussain, Ramesh Sippy and Gulzar preferred RDB as their music director, with a winning combination of either Majrooh Sultanpuri or Anand Bakshi as lyricists.

Here are my favourite numbers:
Chingaari koyi badke
(
Amar Prem
): Whenever my friends and I have a party, this song is a must. Anand Bakshi and RDB at their best.
Chadthi jawani teri
(
Caravan
): Mohammed Rafi and Asha Bhosle at their best under RDB, with foot-tapping music.
Mehbooba mehbooba
(
Sholay
): Just listen to RDB's voice!
| | |
| --- | --- |
| | Don't Miss! |
| | |
Chura liya
(
Yaadon Ki Baaraat
): Each and every remix album today has this song.
Dilbar mere (Satte Pe Satta): A truly melodious song from Kishore Kumar.

Tumse naaraaz nahin (Masoom): Another great hit from RDB.

Aapke aankhon mein kuch (Ghar): Even today, you can feel the freshness of RDB's music through this song.

Aanewaala pal (Golmaal): This comedy had melodious songs, which really get you involved in the film.

Ek chathur naar (Padosan): Who can forget this song? It's the greatest funny song composed. Reach out for Kishore Kumar and Manna De, interspersed with Mehmood's Tamil dialect.

Tere bina zindagi (Aandhi): All the songs of this film are great hits from the winning combination of lyricist Gulzar and RDB.

Kya hua tera vaada (Hum Kisise Kum Nahin): Apart from this song, Bachna ai haseenon and the titletrack qawwali are also superb. Another great combination -- Majrooh Sultanpuri and RDB -- under the directorial venture of Nasir Hussain. The threesome also gave other hits like Yaadon Ki Baaraat and Zamane Ko Dhikhana.

Do ghoont mujhe bhi pilade (Jheel Ke Uss Paar): You cannot find another song like this from Lata Mangeshkar. It's a rare gem from RDB.



Jaane jaan doondtha (Jawani Deewani): Kishore Kumar and Asha Bhosle at their best, in this evergreen hit from lyricist Anand Bakshi.

Tumse milke aisa laga (Parinda): One of the most melodious compositions from RDB

Kisska Rastha dekhen (Joshila): This sad song has so much pain in Kishore Kumar's voice.

Jiss gali mein tera ghar (Kati Patang): All the songs in this film like Yeh shaam mastaani, Yeh jo mohhabbat hai and Pyar diwana hota hain are gems. But I especially like Jiss gali mein tera ghar, sung by Mukesh.

Musafir hoon yaaron (Parichay): Another hit song from the Gulzar-RDB combination.

Kehdoon tumhe (Deewar): Although the film has a few songs, you can picturise this song on Shashi Kapoor and Neetu Singh. It's a superb number in a serious film, which gives us a break from the strong family drama.

Hum bewafa (Shalimar): Another melodious song from RDB.
Click here for More Features