She didn't have much to say in the movie, Chak De! India. Rather, she let her talent for the game speak for itself.
That's what fans found out when they chatted with Raynia (who played her namesake) on August 29. For those who missed the chat, here's the transcript.
Also Read: Chak De stars come to rediff
Raynia says, Hi, this is Raynia
---
sandeep asked, Hi u enjoy work with sharukh
Raynia answers, Of course I did. He's absolutely the greatest there is. The best part about working with him is that he gives you acting tips whether you're interested in acting or not.
---
parangat asked, Hi..congrats for the success of Chak de.Do yoy still work with Spice jet as part of the ground support staff.
Raynia answers, Yes, I do. I'm not looking to act any more. I worked on this movie purely for the love of hockey and nothing else.
---
manoj1 asked, what excited you most?
Raynia answers, The most exciting thing about this movie is the fact that they are FINALLY promoting hockey.
---
Myelin asked, Hey Raynia... Just saw your pic. You are beautiful. :-) Are you married?
Raynia answers, Thanks and no, I'm not married. And won't be any time soon.
---
ravikumar asked, anyway u r trained in hockey, would u like to represent Team India if given an opportunity?
Raynia answers, If given the oppurtunity, I'll grab it. I've played hockey most of my life -- school and college. I was also selected to play for the state.
---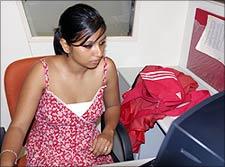 sammo asked, hi raynia, good name congrats for the success of Chak de india now what is your future plan
Raynia answers, Thanks. I love my name too. I'm hoping to fly some day.
---
itsnitin asked, hi raynia, how u werre selected for chak de
Raynia answers, A friend's mother had seen an article in the paper and suggested that I try out for it. My mom works for Radio City and knows a couple of people in the film industry so they put me through to Yash Raj. I went in for an audition but to my bad luck my Hindi is terrible, which explains why I don't have any lines. Anyways, they called me to play with the other girls at BHA. They liked how I played and I was signed on.
---
hi_byeibye asked, hi Raynia, u loof gorgeous, atleast try to act in TV serial or as an VJ :)
Raynia answers, I don't have any acting experience and I think I'll be terrible at it. So no more acting for me.
---
 

robinrobin asked, Hi

raynia, appreciated your role very much in the movie. Apart from yours and SRKz, gimme three girls whom you liked to work with. Three means three in ur order.
Raynia answers, One would have to be Shilpa (Bindiya). It is amazing to see her act. The second would be Shubhi (Gunjan), who was fun, and the third has to be Nicola.
---
abhishek asked, hi first of all congrats for success of CHAK DE.But second part was full of sport that I thought could have been better. what do u think
Raynia answers, Yeah, I do agree. But you have to know that most of these girls have never played hockey or any sport in there entire life. I think they've managed to do a damn good job.
---
sandy asked, Hi raynia , Whom do u think out of all you girls did the best Job in the Movie ?
Raynia answers, Shilpa, definitely.
---
abid_mscadoni asked, r u there
Raynia answers, Yeah, I am. What's your question again?
---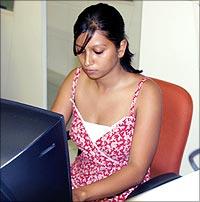 omprakash asked, Hi Raniya How's do you find Sharukh as your lead role and motivator?
Raynia answers, I don't think we could have a better coach than SRK.
---
SINGHAL asked, RAYNIA??WHAT SHD I WATCH "HEY BABY" OR "CHAK DE"??? I,VE POCKET MONEY ONLY FOR ONE??
Raynia answers, Chak De most definitely.
---
ghanshyam asked, i want to know the location where the shooting took place?
Raynia answers, We shot in Mumbai, Delhi and Australia.
---
prabhat tiwari asked, hi babe...congrats for your splendid acting..by the way who s role your model? (especially acting)
Raynia answers, I don't have a role model where acting is concerned.
---
just4ujitus asked, THIS IS JITU WILL YOU PLS REPLY MY ANY QUERY WOULD YOU LIKE TO DO A HINDI COMMERCIAL SEXY MOVIE
Raynia answers, No, I wouldn't. Acting is not for me. Lets leave it to the pros
---
rkjaiswal asked, What did you find most lucrative...Bollywood or a Hocky player?
Raynia answers, It's obvious, Bollywood. Hockey first and foremost is a dying sport in India. Hopefully with this movie it will at least stay afloat.
---
vishal verma asked, given an opportunity..would u have opted for any other role in the movie....
Raynia answers, No, not at all. I don't act and don't intend to. All the girls have done a superb job and I don't think I could substitute for any of them.
---
Raynia says, Thanks for your good wishes and take care. Bye.
Photographs: Reuben V