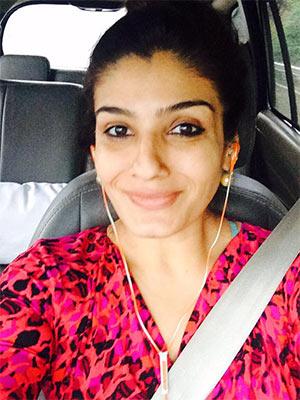 A look at the top tweets from your favourite Bollywood celebrities:
Mumbai received the first rains of the season on Sunday, providing some relief from the heat. Several celebrities turned to Twitter to express their joy.
Raveena Tandon shared a picture, left, and wrote: 'Aaaannd tip tip barsa paani.....finally rains in mumbai . Enjoying the first rains ! Out for A drive wit music and kids!'
Kunal Kohli: Ah. It's raining in Bombay. Which rain song do you prefer: Saanson ko saanson mein ... Or Dekho na.

Manish Malhotra: Mumbai monsoon is here ?beautiful Sunday evening LOVE RAINS.

Esha Deol: Thank u to the rain !!! Bombay was missing u ?super lovely rain finally.

Madhur Bhandarkar: Oppressive summer finally gives way to welcome rains as every Mumbaikar heaves a sigh of relief! Nothing beats d earthy scent of #FirstRains.
***
Happy birthday Shilpa Shetty!

Shilpa Shetty turns 40 today and she received a lot of love from her colleagues on Twitter!

Karan Johar: Happy birthday @TheShilpaShetty.....hope you have the best year ever!!!!! Big hug!!!!!

Riteish Deshmukh: Happy Birthday @TheShilpaShetty - have a blessed one - big hug.

Raveena Tandon: Happy happy birthday my dearest friend @TheShilpaShetty ! Hope you've had the greatest surprise today! (wink wink)With all our love!!
***
Sushmita Sen goes scuba diving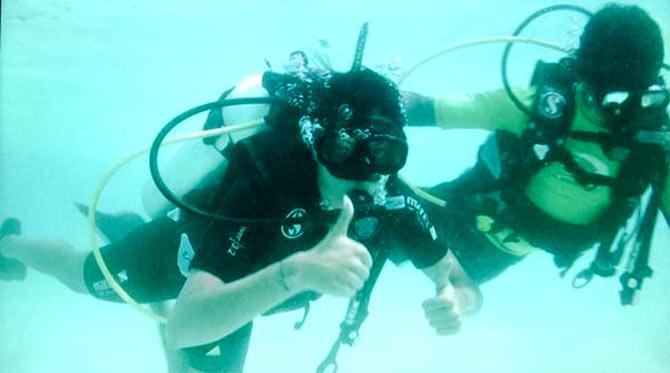 Sushmita Sen went scuba diving with her daughters and posted pictures from her vacation.
'It truly is so easy to get lost in the vastness of beauty..mesmerising!!!! How I wish there was better clarity...soooooo much can't be seen!!!! It retains d feeling though!!' she tweeted.

She shared a picture of her daughter Renee and added: 'Renee's landing!!!! She's a fish in the waters!!! excellent swimmer as well!!! Renee Sen..age 15!!! Yeah!!! Way to go!!!!'
***
Shah Rukh Khan: Feel awful for the team of Raees

Shah Rukh Khan, who recently underwent a knee surgery, is feeling bad for the team of his upcoming film Raees.

'Feel awful the whole of Raees team fighting against rain & time…my injury hampering Ravi Varma, Rahul & Maneka even more. Damn!' he tweeted.

Directed by Rahul Dholakia, the film also stars Nawazuddin Siddiqui and Mahira Khan.