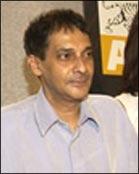 Ranjit Chowdhry may have less than 10 minutes screen time in Last Holiday, but he gets some of the film's best laughs. As the timid, nerdish but good-natured and well-meaning Dr Rabindranath Gupta, he appears in some of the movie's most crucial scenes involving Queen Latifah. And, if you don't rush out when the end credits roll, you will also see him in a robe somewhere in the Himalayas, joined by the movie's most obnoxious character (played by Timothy Hutton), doing a bit of meditation.
Showing on some 3,000 screens in North America, Last Holiday is expected to be among the highest grossing films in the market over the Martin Luther King Jr. holiday weekend.
Ranjit, whose boyish charms enchanted India in the late 1970s with such urban hits as Khatta Meetha and Baaton Baaton Mein, migrated to Canada about a decade later. He played small but key roles in over two dozen films, including Bandit Queen and a handful of Deepa Mehta movies, including Fire.
But Last Holiday is the biggest mainstream film yet for the actor, and he knows that to hold attention in a film dominated by the formidable Queen Latifah is anything but easy. His performance, executed with a deadpan face, has been singled out by many critics in such influential trade publications as Variety. And he has also held the attention of mainstream critics ranging from The New York Times to Los Angeles Times.
"Everything of me you find in the film is because of the wonderful director, Wayne Wang (
Maid in Manhattan
,
The Joy Luck Club
," he says. When Wang called him for an audition more than a year ago, Ranjit says he had no idea what the role was. But, of course, he knew who Wang was. "He auditioned me for the part of a doctor and that of an interesting, mean manager," he recalls, as he baby-sits his three-year old son in his New York apartment. "In my heart, I liked the part of the manager."
When he next heard from the production company, Ranjit says his heart sank. Wang wanted him to play the doctor. "But my agent took a deep breath and asked me to look at the script again," he recalls, with a chuckle. "She told me the doctor's part was not the same one I had read. It had been expanded, and the part I wanted had been cut," he continues, laughing softly. "I cannot tell you how happy I was with the new part. It is not a long part, but it is pivotal to the development of the story."
Queen Latifah plays a rather meek and downbeat New Orleans salesperson diagnosed with a fatal illness. Not having enough to spend on an expensive operation, she withdraws her life's savings and goes on an expensive vacation. It is left to Dr. Gupta to muster some courage and find out she has been misdiagnosed -- and why.
Chowdhry -- who has appeared in practically every major desi film made in North America, including the influential Lonely in America produced by Tirlok Malik in 1991 -- has been lucky to work with the likes of Mira Nair, Deepa Mehta and Shekhar Kapur. "I cannot be in every film they make," he says. "But they keep me in mind all the time."
The actor, who wrote
Sam and Me
, the first film directed by Deepa Mehta, is writing a movie with actor-director Anupam Kher to be made in America, possibly in New York. "I think I am entering a very creative period in my life," he says.