'When we were to shoot Galti Se Mistake, Dada asked me to get some boys and see what we could do.'
'We got 50 boys, but he had no idea what we should do.'
'Ranbir was there too.'
'Then, he played the music and then we all just started jamming and dancing.'
'That's how the song started coming through...'
'Ranbir did not rehearse, only the boys did.'
'Ranbir came up with ideas on set and Dada came up with 10,000 more!'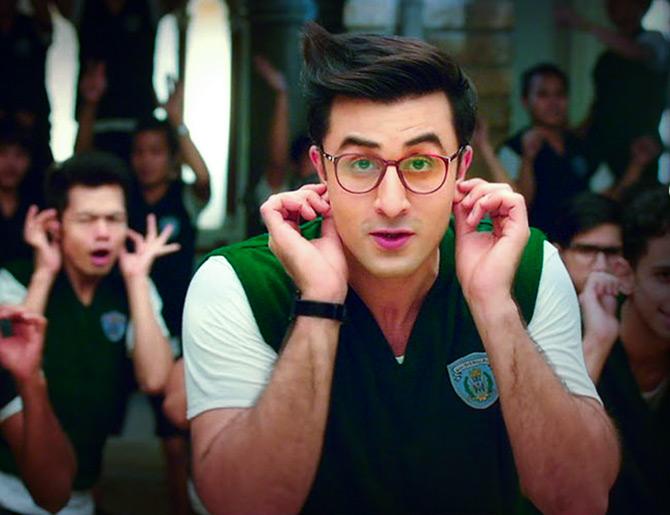 IMAGE: Ranbir Kapoor in the song Galti Se Mistake from Jagga Jasoos.
Getting Ranbir Kapoor to dance to his tune is just another day in Vijay Ganguly's life.
Vijay has done the choreography for Jagga Jasoos's Galti Se Mistake song, and made it look superb.
He is the son of the late director Anil Ganguly, and brother of Rupali Ganguly, the actress best known as Monisha from Sarabhai vs Sarabhai.
He's still working on some patchwork for a song from the film in Mumbai's Film City.
The sets have been constructed to look like Shimla.
"We are doing a bit of Jagga's introduction, as a child. That's a song, so the nurse is singing in the hospital," Vijay informs us.
As he settles down for the interview, he's all praise for director Anurag Basu.
"He is full of life," he says.
"When he is upset, people are scared of him. He will break mikes and people stay away."
"One day, he broke a glass and his hand started bleeding."
"But when he is in a good mood, you will have the best time on set."
"Ask any of the 75 boys from the song. They will tell you this is the best song we have ever done."
Vijay has trained in salsa, contemporary, jazz and hip hop, but Bollywood dance remains his favourite.
And he makes dancing infectious too!
After chatting with us, he made Rediff.com's Jahnavi Patel -- (Editor's aside: Jahnavi is some dancer herself!) dance with him on Galti Se Mistake!
Tell me about yourself.
My father made 21 films like Kora Kagaz and Saheb, so I have grown up on the sets.
I started talking when I was in Trishna, started walking when I was in Aanchal. That's how I remember my life.
Then Shiamak (Davar) happened and I started dancing. I joined his troupe and we started doing stage shows.
Shiamak doesn't like going on film shoots, so he would send me.
I started with the title song of Bunty Aur Babli, where you see Mr Bachchan rapping.
Taare Zameen Par followed, then Yuvraaj... I executed every shot for Bum Bum Bole in Taare Zameen Par for 10 days.
After some time, I quit Shiamak's troupe, and wanted to make films.
I had seen Barfi! and met Mr Anurag Basu. He told me he would get back to me.
While waiting for his reply, I wondered whether I should start dancing again, or start choreography or make films.
I was very lost.
Then he called me and said he was making a musical called Jagga Jasoos.
He said he wanted someone who would understand music and choreography and who could get actors to sync right.
We started filming in 2013.
Jagga Jasoos took a little longer than expected.
It was supposed to take two years, but the scale is so huge that there was a break in the middle.
I got offers for choreography and I asked Dada if I could take them up.
He said, 'If it makes you happy, do it.'
So, I started choreographing films.
He saw my work and said, 'Why don't you do Jagga as well?'
That's when he gave me Galti Se Mistake.
Mr Basu is also a dancer by heart.
When we were to shoot the song, he asked me to get some boys and see what we could do.
We got 50 boys, but he had no idea what we should do.
Ranbir was there too.
Then, he played the music and then we all just started jamming and dancing.
That's how the song started coming through.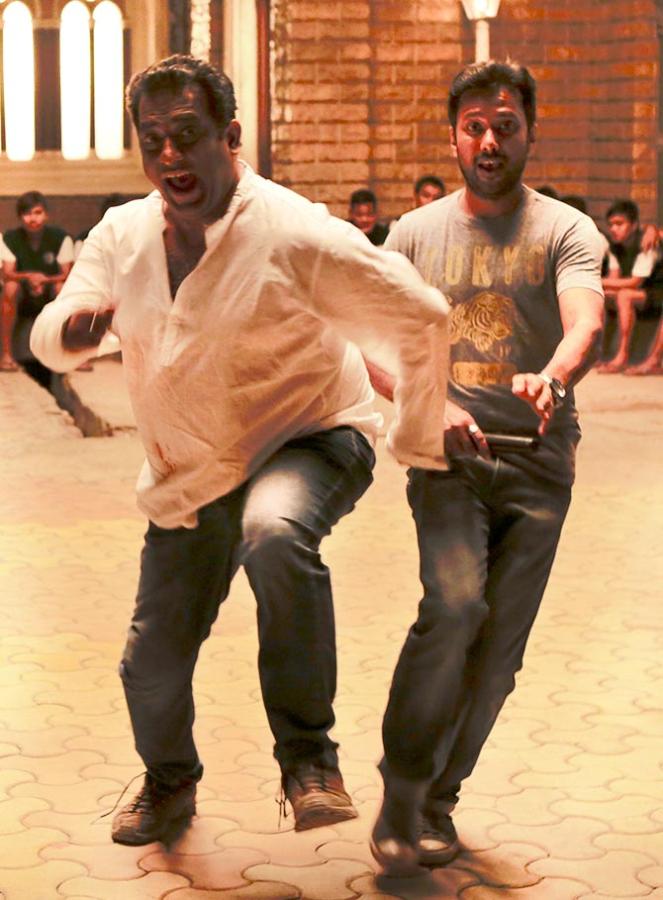 IMAGE: Who won this race, Dada or Vijay? Photograph: Kind courtesy, Vijay Ganguly
That's how the song was choreographed?
Not completely. That was the first day.
After that, we wanted something more fun and quirky.
We started doing some research because we did not want anything regular.
Then we saw Dada doing this (television) series, Super Dancer.
There was this boy from the Philippines called Ruel.
He did some funny things, and Dada said, 'Yeh style isko pakadte hai.'
He sent Ruel to me and asked me to see what we can get out of him.
He did some funny things, and we said this is what we want.
Ranbir saw it and agreed.
We went on set, and the camera started rolling.
Ranbir did not rehearse, only the boys did.
He came up with ideas on set and Dada came up with 10,000 more!
We shot for the song every day, and it got better and better.
The best part is we did not even have the complete song.
(Composer) Pritamda had first sent a version where the lyrics were completely different.
The song changed as well. It had a rural sound in the beginning.
Then, Pritamda added some reggae beats.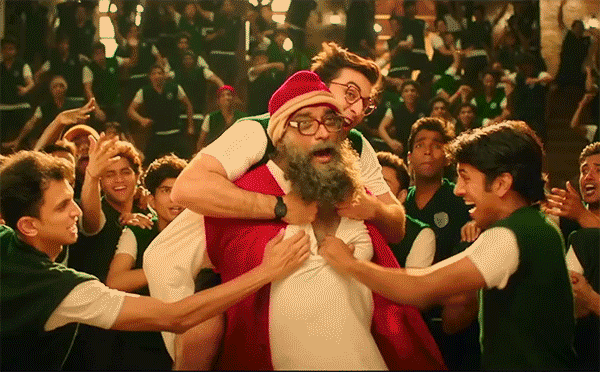 IMAGE: When Ranbir jumped on Dada and tore his shirt!
Whose idea was it to have Anurag Basu in the song?
Ranbir Kapoor and Anurag Basu have a brilliant chemistry.
They don't talk to each other, they just look at each other, make some gestures and the next thing we know, Dada is doing it.
So what happened was that someone was supposed to run and someone else was supposed to tear his clothes.
So Ranbir and Dada were signalling to each other; Dada was not keen while Ranbir was.
Dada was a very good sport.
Eventually, they got him into costume.
Initially, we were supposed to tear a little bit, but Ranbir jumped on him and tore everything!
Dada saw it and said 'You've exposed me, I am not going to use this shot.'
Eventually, he did use it.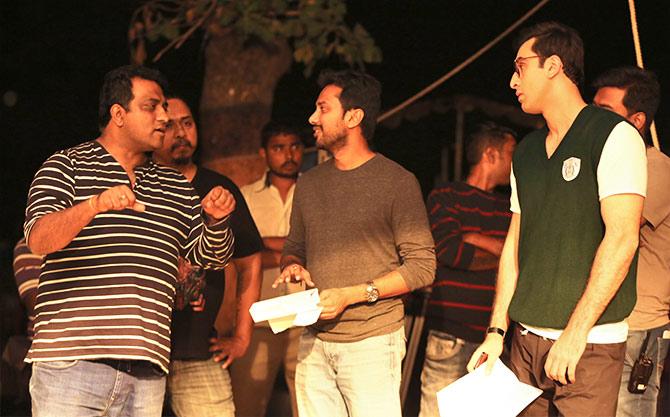 IMAGE: An intense discussion going on here. Photograph: Kind courtesy, Vijay Ganguly
Did you have any disagreements with Dada or Ranbir?
No, Dada is very clear about what he wants.
There are no clashes because he gets you on the same wavelength.
He knows what he wants and he gives references.
For the Moroccan song Ullu Ka Pattha, he wanted something funny, something crazy.
For Galti Se Mistake, he said he wanted some masti with the boys.
VIDEO: Vijay teaches us the Galti Se Mistake step.
Video: Hitesh Harisinghani/Rediff.com
How many songs have you choreographed for Jagga?
Technically, I have done five songs.
There is this very fun song called Khana Kha Ke Daaru Pe Ke Chale Gaye.
The take on that song was so different.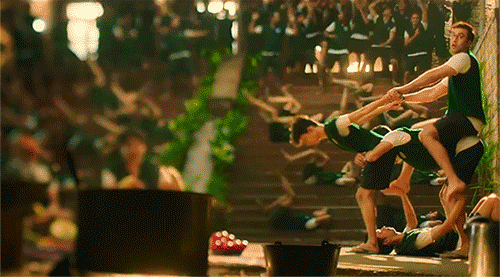 IMAGE: 'The cycle sequence happened on set where we decided to make a human cycle. So, you see a cycle and suddenly, it becomes a motor bike.'
Do you feel any pressure since the film is a musical?
No pressure at all.
The pressure was on Pritamda, humongous pressure, and obviously Dada.
Normally, the way he works is that he knows what the scene is, so he will come on set and write the scene.
He knows what the dialogues would be, and he will make the actors stage it and then shoot it.
Here, you can't do that. You have to have the song from before.
And it's a scene. Like, I am giving you information about your father or you're telling me what happened in 1993... It's all happening through songs.
For that, Dada and Pritamda had to work hand-in-hand.
Obviously, Amitabh Bhattacharya had to write the lyrics.
The ADs (assistant directors) are people who are writers, have knowledge in music and can sing.
So it's a big team effort.
IMAGE: Katrina and Ranbir in the Ullu Ka Pattha song from Jagga Jasoos.
Ranbir and Katrina are amazing dancers. Was that a bonus for you?
I didn't get to make Katrina dance.
The choreography for Ullu Ka Pattha was done by Shiamak, but I was present on set.
Ranbir is phenomenal.
You don't have to tell him anything. He is such a great actor and person.
There is a sequence in the song where the lyrics stop and the music plays.
We jammed and came up with something. Ranbir saw and said, 'Pagal hai kya, aise thodi kar loonga main.'
So we decided to do it one at a time.
Ranbir and Dada looked at each other and all these esharas (signs) were happening.
Dada was telling him 'kar le na' and Ranbir was like 'kaise karu?'
Then, Ranbir said, 'Five minutes.'
He went over the whole thing and asked for the take quickly.
With the camera on, he danced the whole thing in one take.
He is that good.
(Cinematographer) Ravi Varman is phenomenal in the film. He has created magic.
All his films are good, but Jagga is better than all of them.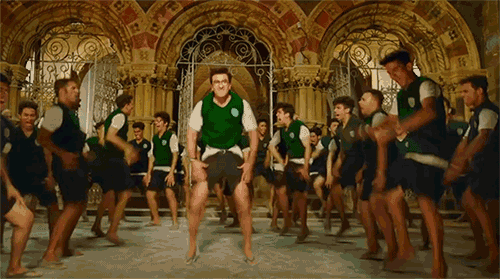 IMAGE: 'Ranbir danced the whole thing in one take. He is that good.'
What was your experience with Ranbir like?
Both Dada and Ranbir are pranksters. They gang up against people.
They used to pull Katrina's leg a lot. Not they, mostly Ranbir.
During takes, he would say his lines and then suddenly look at her and say, 'There's something in your hair.'
So she would go see and he would be sitting there and saying, 'She's wasting time.'
He used to do that all the time!
If we were sitting around and eating vada pav on set, he would just walk in and ask, 'Kya kha rahe ho?'
He would take your vada pav and start eating it.
When he's on screen, he is something else. He doesn't need glycerine to cry.
Dada tells him: 'Isme thoda aakh moist kar le.'
He says, 'Theek hai.'
Then, before the take, he will ask, 'Tapkana hai kya?'
Dada will say, 'Nahin, wahin rok de.'
That's the conversation they have.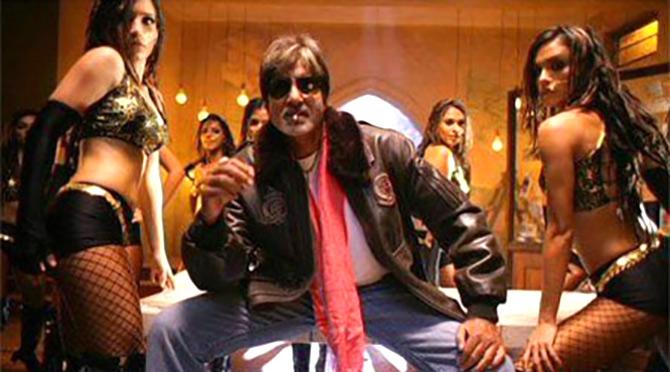 IMAGE: Amitabh Bachchan in the Bunty Aur Babli song.
Have you been intimidated by any actor?
Mr Bachchan, big time!
I was intimidated with Ajay Devgn, I did a film Baadshaho with him.
When he comes on set, he know exactly how to face the camera, what to do...
Then you feel how do I tell him to give this or that look. But he makes you comfortable.
But Mr Bachchan is something else.
I had seen him as a child.
My dad's first film (Kora Kagaz) was with Jaya Bhaduri.
In my first shot (in Bunty Aur Babli), Mr Bachchan had to sit on a cot and clap.
He came on set, we were introduced and I said I was going to represent Shiamak.
He asked my name and I said Vijay.
Then, he asked me, 'Kya karna hai?'
I froze. I had no idea. I just smiled.
He is so wonderful, I haven't worked with someone like him!
You have done Mission Impossible: Ghost Protocol. What exactly did you do?
Shiamak was called for this film.
In Mission Impossible, there was a sequence where six girls dance (at Anil Kapoor's party). That Indian portion was choreographed by us.
I was standing in front of Tom Cruise, and I said to myself, 'This is it, I have seen Tom Cruise. I don't want to see anything else.'
It was a great experience because you're on a Hollywood set. It's very different from how our sets work.
Wherever I have worked, there's a lot of shouting on set, but there, there's pin drop silence. The communication is through walkies.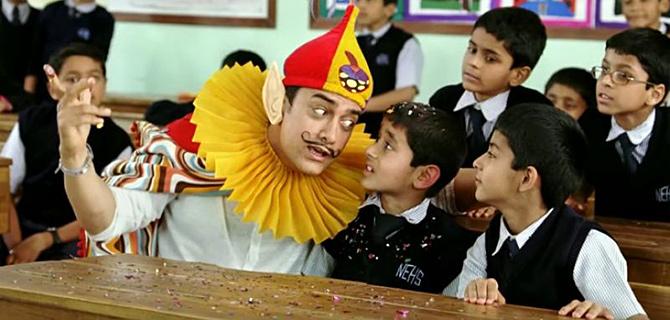 IMAGE: Aamir Khan in Taare Zameen Par.
What was the Taare Zameen Par choreography like?
That was difficult.
When there is no dance, it gets difficult because you have to make sure the song goes according to the flow of the film.
Also, because it was with Aamir Khan, a perfectionist.
Everything with him has to be perfect.
If it's not, he will take out everything and put it back again which will take time.
We were supposed to shoot Bum Bum Bole in three days, but it took 10 because of this process.
It's wonderful working with people who are so passionate about their work.
You have worked with Shah Rukh, Salman (during IIFA) and Aamir. How similar are they?
They are all very special.
Shah Rukh is a very warm person.
He will make sure he knows your name. He will make you comfortable.
During shows, he was the only one who would say thank you after the rehearsals get over and hug all the dancers.
If you are not a fan of his, you will become one.
Salman Khan does whatever he feels like.
Once, we were dancing from 10 am to 4 am for IIFA.
Salman came at 4 am, and everyone was famished.
He said, 'Wait, baitho tum log.'
We were in Bandra (north west Mumbai, where Salman lives), so he sent someone home and got tea for all of us.
He knew we were tired, so he said just show me the dance once.
He saw it and said he would rehearse the next day, just send one person.
He asked us to go home.
Aamir Khan knows exactly what he wants.
He wants everything to be perfect.
He never does shows and was doing one for CINTAA.
He came and had rehearsed and was fully prepared.
R Madhavan and Sharman Joshi were also there. He wanted to see them perform.
They knew their work, but hadn't rehearsed completely.
He saw it and asked me, 'Yeh log aur accha kar sakte hai na?'
It was a very tricky situation for me. I suggested we rehearse again.
He instructed that they rehearse the whole day because he doesn't want his stuff to look bad.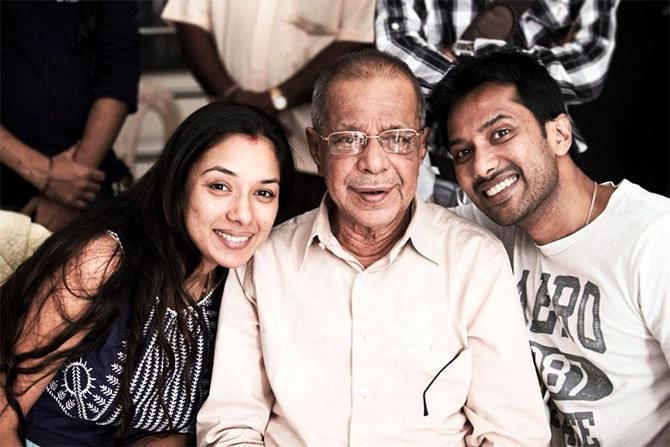 IMAGE: Rupali Ganguly, the late Anil Ganguly and Vijay. Photograph: Kind courtesy, Vijay Ganguly/Facebook
Your father was a director, your sister is an actress. How did you get into choreography?
My dad was strict. He always believed that whatever you do, it has to be on your own.
I have acted in a lot of his films. The little boy in Saheb is me.
I have done Dushman Devta and Sadak Chhap. I was like a lucky charm for him.
I assisted my dad in 1996.
I was made to do the clap, and I would get upset.
I would ask him why I was doing that, I should get some privilege since I was his son.
He told me there was no privilege.
Dad almost stopped making films in 1998.
It was a time when directors had to go to actors to make a film.
If you had an actor, you could make a film.
At that time, dad did not have a star.
A couple of his films hadn't worked, so there was a financial crunch as well.
Then Mithun uncle said, 'Aap banao picture, jab paise aayenge mujhe de dena> (You make a movie, when you get the money you can give it to me).'
Dad had signed him when he had got a National Award for Mrigayaa.
They did this film, Angaara.
Then, dad wanted to retire.
My sister was trying to become an actress, and I was cutting promos and things like that.
My sister joined Shiamak's classes, and asked me to try it out.
I did, and I enjoyed it.
Shiamak said I was good and he would train me.
Then, the shows happened constantly. I did 10 IIFAs as a dancer.
I have taught Shah Rukh Khan, Salman Khan, Mr Bachchan, worked with Aamir Khan...
15 years passed that way.
Then suddenly I realised I should be doing something more.
Eventually, I want to make a film.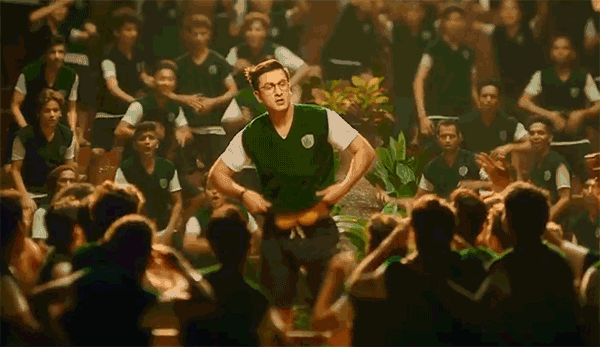 IMAGE: 'Anurag Basu said, 'Muscle ke liye kuch sochte hai', and so we sent someone to get pav.'
'We put it on Ranbir, but it didn't look nice.'
'Then, we called for brun pav.'
Will you make a dance film?
The last film I discussed with my father was a dance film.
It's one of his old films that I am still working on.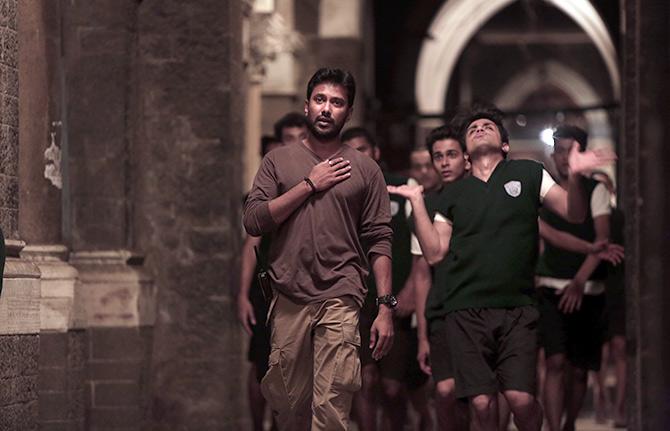 IMAGE: Vijay getting into the feel on the song. Photograph: Kind courtesy, Vijay Ganguly
Where do you get the inspiration for the dance steps?
From the song, and the brief I get.
I've done a song in Baadshaho with Sunny Leone.
It was set during the Emergency. When I heard the song, it just came naturally.
Then I did Tumhari Sulu with Vidya Balan.
When you hear the song and the situation, things just flow.
Who do you think is the best dancer in Bollywood today?
Tiger Shroff is phenomenal.
You cannot beat Hrithik (Roshan).
I have danced with Shahid (Kapoor). He is fantastic.
Varun (Dhawan) is also good.
Obviously, our man Ranbir Kapoor is phenomenal.
What do you think about item numbers?
Item numbers are here to stay.