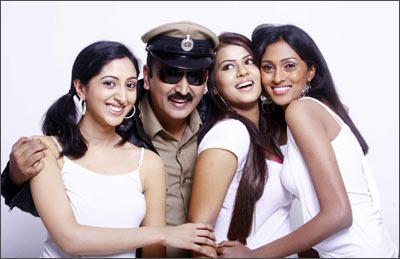 The three beauties sharing screen space with Ramesh Arvind in his new Kannada film, Venkata In Sankata are Sharmila Mandre, Meghana and Anusha.
While Sharmila has already acted in Sajini, Anusha is a well known model in Bangalore. Meghna has flown in from the US to act in the film
Venkata In Sankata is the story of a police constable who gets into trouble on account of these three girls. How his aspiration to become a Police Commissioner gets threatened by the girls is the main element of the story.
"You will laugh every minute in the film. My film is a fun filled entertainer to cheer all sections of audience in these times of recession," says Ramesh Arvind.
Sharmila thinks she looks beautiful in the film. "Thanks to the way Ramesh sir projected me," she says.
Meghana has roots in Karnataka and speaks the language fluently. "Whenever I came to Bangalore, my grandmom would insist that I speak to her only in Kannada. Now if I can read and write in Kannada, and I must thank my ajji for that. I met Ramesh Arvind sir at a friend's party. When he auditioned me for the role, I was a little tense. As a newcomer I think I could not have asked for a better debut than this," says Meghana.
Anusha was "over the moon when she was told she would be part of the film. So did she find tough competition between the three glamorous girls?
"I got along very well with both Meghana and Sharmila Mandre though I interacted with Meghana more. She became my friend as well as critic," says Anusha.
Text: R G Vijayasarathy