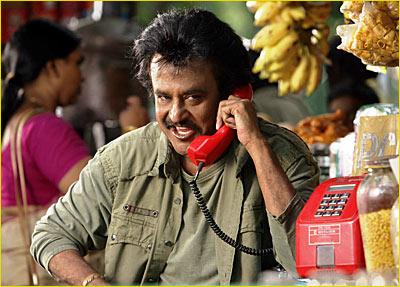 Tamil superstar Rajnikanth quietly ringed in his 60th birthday on Saturday while at work, shooting for his upcoming Shankar film Enthiran, even as his fans pressed him to join politics amid raucous celebrations.
The actor, busy with the multi-crore film directed by filmmaker Shankar, is out of town, said sources close to him.
Some of his unique mannerisms, like tossing up the cigarette to his mouth, endeared him to the masses, especially among youth, who in course of time accorded him a demi-god status.
Rajnikanth's fans have lined up a slew of activities to mark his birthday, also known as 'Manivizha' in Tamil, meaning completion of 60 years.
Fans offered sweets to one another and posters of Rajnikant adorned the walls in Chennai and other cities in the state with followers organising special prayers in temples for the cinestar.
Several of the fans chose to re-start the debate on his possible entry into politics, a subject he has chosen to stay away from in the last few years.
While some posters gave a call to him to take the plunge, others, especially in Chennai, even chose to create a "swearing-in ceremony" scene of their 'Thalaivar' (leader).
Born as Shivaji Rao Gaikwad, Rajnikant's climb to stardom is no different than a movie screenplay. Rajnikant owes much of his rise to stardom to his mentor and ace director K Balachander who first featured him in his critically-acclaimed 'Apoorva Ragangal', co-starring another Tamil icon, Kamal Haasan.
From a bus conductor in Bangalore to being one of the biggest names in Indian cinema, Rajni, as his fans call him, has come a long way in his career spanning more than 30 years. 
An ardent devotee of Sri Raghavendra Swami, a 16th century saint, he earned critical acclaim for his portrayal of the
saint in the film 'Sri Raghavendra'.
On the political front, Rajnikanth stirred up the hornet's nest in the 1990s when he slammed the law and order situation in the state under the chief ministership of AIADMK leader J Jayalalithaa. In the 1996 assembly elections, he announced his support to the DMK-TMC combine which swept the polls.
Thanks to some strong political lines in some of his films, reports on his political aspirations surfaced frequently. However, the actor has kept his fans guessing.
Known to be a religious man, Rajnikanth regularly visits the Himalayas. Married to Lata, he has two daughters, Ishwarya, married to actor Dhanush and Soundarya, who is a film producer.
Rajnikant did not celebrate his birthday last year citing the plight of Tamils in Sri Lanka.