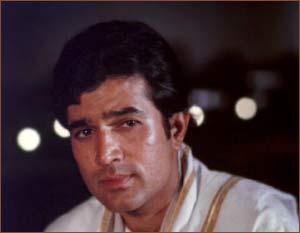 There was something strangely off-centre about Rajesh Khanna, both in performance and personality, writes Sunil Sethi.

Even at the height of his fame there was a curious inanity about Rajesh Khanna, the man behind the star.

In 1970 when Aradhana became a hit in the Soviet Union, a friend of mine, who worked for the Russian unit of All India Radio, was sent down to Bombay to record an interview with him.

Shakti Samanta, keen to pump up his movie's overseas prospects, arranged a meeting at a film studio.

Khanna asked her to write down the questions, which she duly did, and come back the following day.

Next evening, he asked her to drive home with him in his limousine; on the way he rehearsed his answers in parrot-like English and dispensed cash to urchins at traffic lights who mobbed the car. The encounter grew stranger when he invited her into his bedroom, an octagonal sea-facing room that had no bed but was entirely padded in a deep mattress. Large blowups of himself adorned the walls; strewn about were electronic gadgets to summon staff and draw curtains.
Her anxiety subsided at his polite manners though he failed to give a single worthwhile quote.
"He was bizarre, banal and boring," she later recalled.

That was my impression as well, when I fetched up in the early 1980s for an interview by appointment. After a long wait, I was shown into an over-decorated living room (all shimmering silk and gilt) where he appeared in a garish turquoise raw silk kurta and matching lungi. He was carefully coiffed and groomed but I can't remember a thing he said. He was like a male Bollywood parody of Norma Desmond, herself a tragic parody of Hollywood stardom in Billy Wilder's Sunset Boulevard ('I AM big. It's the PICTURES that got small') -- but without the lines.

There was something strangely off-centre about Rajesh Khanna, in performance and personality. Perhaps that was the reason for his phenomenal appeal, the hysterical hero worship he aroused and the gushing tributes that have poured at his death.
If you look at his big hits of the early 1970s, from Aradhana to Amar Prem, he basically reprises the same acting style with jerky head tilts and velvety dialogue delivery.
In several of his films, it is his female co-stars -- Mumtaz, Sharmila Tagore and Asha Parekh -- who take the lead in wooing or seducing him.
The nature of star quality is difficult to define but his iconic status seemed freakish. Was he just the guy who got tremendously lucky between the decline of Bollywood's holy trinity of Raj Kapoor-Dilip Kumar-Dev Anand and the rise of Amitabh Bachchan?

If Rajesh Khanna had no great acting range, his career graph was also comparatively compressed. His inability to stick with things was reflected in his personal and political life. Many of his relationships crashed resoundingly: with his girlfriend Anju Mahendru, wife Dimple Kapadia and the acid-tongued film journalist Devyani Chaubal, who built him up, then fell out bitterly with him.
"Oh Kaka," she said sneeringly when I sought her help for an interview. "I no longer see him. He is too much a victim of his own image."
The film industry is a hard-hearted place and not short on hypocrisy. Many of the co-stars who remember him fondly today were less than charitable during his lifetime. For years, an intelligent and respected actress would wrinkle her nose and refuse to comment, making her dislike of him patently obvious.

Nothing succeeds like success, and political parties like to feed off Bollywood's excess. In 1992, he defeated the BJP's Shatrughan Sinha as the Congress candidate for the New Delhi by-election with a narrow margin of 25,000 votes. He did little for his constituency and proved a pretty pointless MP. He topped the list of parliamentarians who failed to make use of their development funds.
Rajesh Khanna's life can be viewed as a paradigm of stardom's tragedy. He found both success and failure hard to handle.