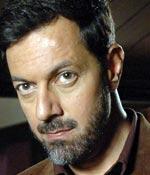 It's time to take a pause and celebrate the man who has given us great cinema through the years -- from Nishant and Mirch Masala to more recent fare like Iqbal and A Wednesday.
Naseeruddin Shah turns 60 today, and one of his oldest friends Rajat Kapoor wishes him all the best.
Kapoor, who has acted with and directed Naseer as well, also tells Nithya Ramani what he loves about the actor:
I happened to watch Nishant and Manthan in the 1970s, and found this man Naseeruddin Shah to be an incredible actor. He was so good looking and came up with new performances that became his trademark.
When I was in FTII (Film and Television Institute of India) in 1985, I had a fair idea of acting and filmmaking. My lot came from the new trend of acting and had a different school of thought. When Naseer came, we completely rejected him.
In 1991, my theatre group in Delhi came up with four plays. Naseer and Ratna (Pathak, Naseer's wife) came over to watch them all. They would be full of praises. During the staging of the last play, Naseer and Ratna brought a cake and celebrated its success. That was an awesome gesture.
Monsoon Wedding was my first film as an actor and I would ask Naseer for help. He always did. He always gave me tips and advice on how the scene would look better.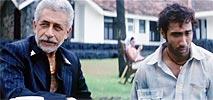 I asked him to star in my first directorial film, Private Detective, and he willing agreed. He agreed to star in my other films, Mixed Doubles and Mithya, too. By the time I made Mithya, he was too old for the character. I told him that Ranvir Shorey would play the role instead, and that I had something else for him. He agreed, even though it was a small role.
My first film production was Raghu Romeo, and I had asked friends to help me out. Naseer was in Zurich at the time, shooting for The League of Extraordinary Gentlemen. He called me up and said that he had received my e-mail and would call me once he was back.
When he returned, he gave me Rs 5 lakh for the film. I didn't know what to say. I couldn't take it because I didn't know if I could repay it. He just said that he trusted me and that he knew I would return the money. I did, in three years. But that gesture was so touching. He is very generous, and it's good to know a person like him.
I loved Naseer in films like Parzania, Sparsh and Albert Pinto Ko Gussa Kyun Aata Hai. I haven't watched Albert... in about 15 years but it is still fresh in my mind. That is the kind of impact he leaves on his viewers.
It is sad to know that he wants to quit acting. He has tried everything every possible character, and that's why he wants to stop. Actors like us do five-six films a year -- how much can one experiment with the characters?
I believe there is nothing he can't do. The only difficult thing is getting him interested in a character. If he gets interested, he will devote himself to it.
I hope he continues acting. We can't get enough of him.