Every year the Oscars roll around, and we movie lovers never quite learn, do we?
Every year we hope the Academy will toast cleverness over cliche, striking quirk over studio clout, bizarre over biopic. And, incorrigibly, inevitably, we breathe sighs of collective disappointment.
This year has outdone even last year's ceremony -- when the statuettes almost seemed to have dropped a few gold inches as the Academy Awards were rechristened The Hobbits -- in terms of sheer predictability, and it almost seems like Oscar voters were waiting for the journalistic speculations before casting their votes.
First things first, let's think India. Little Terrorist lost, which is quite heartbreaking. Simply because this was our legit opportunity to win an Oscar, unlike the hyped Lagaan, which did not stand a chance against a super film like No Man's Land.
Ashvin's 15-minute-short is terrific, and this is our so-near-yet-so-far moment, making us wonder if the Academy is holding out on India until our nominees conform to tuxedos.
One of the biggest travesties of the evening was Alan Alda not winning Best Supporting Actor for The Aviator. Alda, along with Cate Blanchett's Hepburn (which won, thankfully, but perhaps because of the lack of competition -- the Academy probably feels Natalie Portman is too young), was among the highest points of the Martin Scorsese picture.
He lost it to Morgan Freeman, a man who has given far better performances than Million Dollar Baby, the award coming to him at a stage where he is sadly become a generic actor -- like a Pacino -- who simply plays the same character in all his films. Exchange Eddie 'Scrap-Iron' Dupris with God, and it wouldn't make much difference.
I have nothing against Foxx, hell, he was stupendous in Ray, but the box-office pundits have been going so far with their superlatives about the former comic that there is more than a bit of Jamie-overkill right now. DiCaprio performed really well in The Aviator, his job this year incredibly beating that of Depp in Finding Neverland.
But none of the five actors come even close to the man the Academy perennially ignores just because he makes more money than them, Jim Carrey in Eternal Sunshine Of The Spotless Mind. And then, sentimentally speaking, it was the year to root for Clint Eastwood, the 74-year-old actor never having won a Best Actor trophy. No go, and the lack of surprise continued to rule the evening.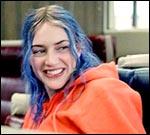 Similarly, all those who worshipped Goodfellas smiled warmly at the very thought of Marty Scorsese finally clutching a long overdue Best Director Oscar, but that was not to be, The Man With No Name piling on the Million Dollar trophies.
What about Swank? She was good in Boys Don't Cry a few years ago, but Kate Winslet's uninhibited free-spiritedness in Eternal Sunshine and Imelda Staunton's classically acted Vera Drake were in a wholly different league this year. In fact, looking at fiery young debutante Catalina Sandino Moreno and Annette Bening, Hilary was relatively the least deserving actress this year.
In terms of women dealing with furious fists and going through really dramatic life changes, the best performance of the year was predictably overlooked by the Academy. But hey, Uma, we still love you.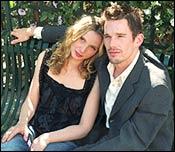 Now, it's all very well to get every single independent filmmaking award in the world for your tiny little witty film, but Best Adapted Screenplay didn't really belong to Alexander Payne's Sideways. The wine-is-life comedy is very good, but nothing in a long time matched up to the sheer quality of Before Sunset, the most intelligently written film in years. Unbelievably, Richard Linklater had never been nominated before this, and these glorious words he wrote with Julie Delpy and Ethan Hawke would have been a fine start to his Oscar glories.
Best Original Screenplay has, over the last few years, emerged as the most respectable Oscar category, where the Academy actually seems to not be dumbing down towards the box-office. Which means really interesting writing really gets to win. Last year saw Sofia Coppola's Lost In Translation, 2003 saw Pedro Almodovar's Talk To Her, and, two years before that, Cameron Crowe won for Almost Famous.
This year, deserving it to the fullest, screenwriting God Charlie Kaufman picked up the big prize for Eternal Sunshine Of The Spotless Mind. Lets just start calling this category the Best Picture Free Of Massive Studio Lobbying, and cork open the budget champagne.