What happens when you shoot at night, under pouring rain, as electrical wires snake around and your eyes turn gritty due to lack of sleep?
Rediff.com's A Ganesh Nadar slips onto the sets of Theeran Adhigaram Ondru to find out.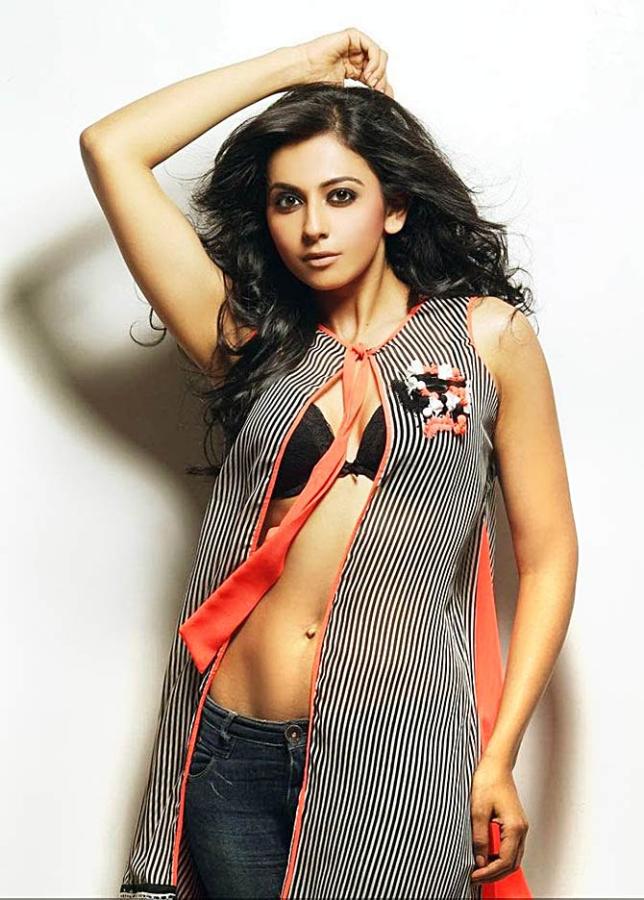 IMAGE: Rakul Preet Singh.
On the outskirts of Chennai is a small village, the kind you'd probably spot in a movie.
Some of the village folk are carrying bundles of hay on their heads.
There is a huge mound of freshly harvested paddy in front of one of the houses.
A small river, that has surprisingly not run dry, flows nearby.
This is where director-writer H Vinoth -- of Sathuranga Vettai fame; the film released in 2014 -- filmed the final leg of his second movie, Theeran Adhigaram Ondru.
The film stars Karthi and Rakul Preet Singh, with Abhimanyu Singh providing the villainous moments.
Scarlett Mellish Wilson, who showed off her sensuous dance moves in Baahubali and Jhalak Dikhhla Jaa, Season 8, will appear in an item song that she performs for the villain.
A massive stone quarry, now abandoned, is the location for the day I attend the shoot.
Brooding over it is the sharp-edged remains of the mountain that has survived the quarrying. The harvested stones have left behind a valley.
There are enough people milling around to start a small war.
Technicians are setting up a rain water machine -- comprising five huge hoses powered by a diesel water pump and, of course, multiple water tankers to supply the rain.
A crane and a few very tall ladders have been strategically located to house either the lights or the hoses.
The catering service ensures there is a steady supply of biscuits, tea, dal vada, upma and, later, dinner.
The three vanity vans -- each equipped with two rooms -- wait quietly, ready to ensconce Karthi, Rakul, Abhimanyu, Vinoth and the child artiste who is shooting in luxurious comfort.
Powerful generator vans take care of the set's electricity needs.
Water and electricity do not seem like a safe combination but the stunningly beautiful Rakul assures me, "There is no chance of a naked wire coming in contact with the water and electrocuting everyone."
"In the Telugu movie I am shooting for, we were filming in waist high water for nine days. The wires were submerged under water."
Rakul, an army brat, has followed the tried-and-tested formula to stardom -- the Miss India pageant, followed by modelling and, finally, the movies.
Language has not been a barrier -- she has worked in Telugu, Tamil, Kannada and Hindi films.
"Rains," orders the director into his mike, "start."
"Cameras... rolling," comes the next command.
"Action."
Rakul grabs a torch and her five-year-old co-star and runs into the rain.
She holds onto her mobile phone in the other, frantically jabbing a phone number.
Even as she runs, she keeping looking back, terrified that the villain -- who is not in the frame at the moment -- might catch up with them.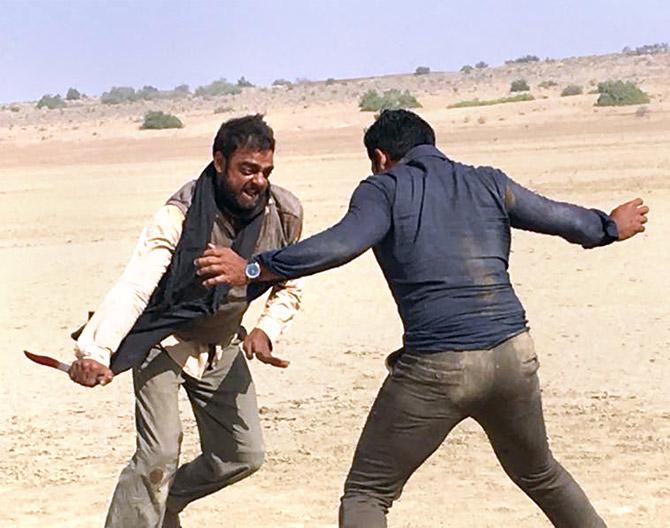 IMAGE: Abhimanyu Singh and Karthi on the sets of Theeran Adhigaram Ondru.
Abhimanyu, looking extremely docile, is in his vanity van, quietly allowing the make-up artiste to darken his complexion.
"My character is dark, so I have to darken my skin every time I appear before the camera," he says.
The Bihar lad has graduated in Sanskrit from Delhi's famed St Stephen's College.
"Sanskrit," he explains, "is a high-scoring subject. My parents wanted me to join the IAS."
His route to filmdom is familiar too -- he first did theatre, then Hindi TV serials before he stepped into the movies.
"I wanted to act, so I moved to Mumbai."
The Patna-born actor is wearing an all-black ensemble. A black shawl and joothis with elaborately curled tips adds to the drama.
He walks into the frame holding a white lathi. His eye-shadow darkened eyes are bloodshot from lack of sleep, making him look suitably frightening.
"Last night, I reached the hotel at 2 pm. Karthi was still shooting. When I finally managed to fall asleep, I was woken up by the phone so many times that, now, I really want to take a nap," he confesses.
But the 40 winks have to wait.
"Action!" yells the director.
"Cut!" follows immediately.
The props team bloodies one end of the lathi with red colour.
"Action!"
Abhimanyu runs past the camera, into the rain, menacingly looking left, then right.
What does he have against the pretty heroine?
"She saw my face," he growls. "The hero has only seen my eyes and heard me howling; he hasn't seen my face."
Theeran Adhigaram Ondru is inspired by a real life policeman who investigates a case for seven years, only to find out that the criminal's family has been around for 600 years.
The day's first shot had been canned on a field, with the rocky mountain in the background.
It made me think of Gabbar Singh's hideout in Sholay and I instinctively scanned the mountain top for Samba.
The technicians -- armed with hoses for the rain and wires for electricity -- are climbing a neighbouring hill to set up the next shot.
"Be careful," Vinoth warn them, "it's steep."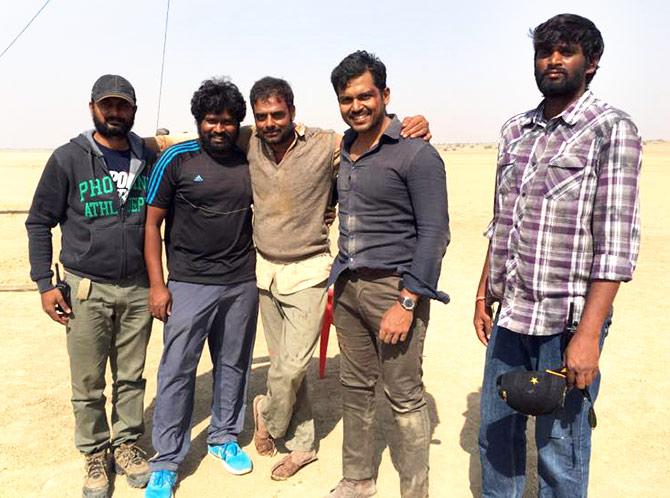 IMAGE: Cinematographer Sathyan Sooryan, stunt choreographer Dhilip Subbarayan, Abhimanyu Singh, Karthi and director H Vinoth on the sets of Theeran Adhigaram Ondru.
With the change in location, it takes an hour to set up the next shot.
Abhimanyu is excited about his recent release, a big one.
"I play the antagonist in Sridevi's Mom."
The minute a shot is canned, the make-up artistes reach Rakul and Abhimanyu.
"My team has been with me for four years. It makes my mom happy as she feels I am safe when I am travelling. Shooting at night does not bother me because I can fall asleep anywhere at the drop of a hat," says Rakul, disarmingly dabbing water from her forehead.
Vinoth is ready for the next shot.
Rakul has to run down into the valley, carrying the child.
"Cuuuttt!"
Two assistants, armed with towels, rush towards Rakul and the child artiste.
Running down a slope, with water flowing around your feet and the rain pounding down, seemed dangerous.
"My feet had a good grip on the ground," smiles Rakul. "It wasn't risky at all."
Vinoth, who kept staring into his monitor, was only satisfied after the third take.
The child's mother is on the sets. "Should I change my dress?" her livewire bombards her. "It's wet."
"It will get wet again," the mother replies, calmly.
"You can change it again," the child responds quickly.
Rakul smiles. "I thought I could talk a lot, but I've changed my mind after meeting her."
Words constantly dripped off the little girl's lips as she aimed the water spray she had taken off the make up man at whoever took her fancy.
Vinoth, who seems very fond of the youngest member on his set, would spend time with her between shots.
Now, it was the villain's turn to race down into the valley.
"Ajay," Abhimanyu hands his cell phone and wallet to his Man Friday, "get me fire when the shot is done."
Ajay returns with a vessel that holds a few pieces of burning wood.
"It helps him to dry up between shots," he explains. "And it gets very cold after 3 am."
By now, Karthi has arrived and is getting ready for his bit of the shoot, which will begin at 2 am.
"Cuuuttt!"
"Most of this movie has been shot at night," explains Abhimanyu as he warms his chilled hands over the fire.
"We have been shooting for the last nine days here, only after it became adequately dark. We shot in Bangkok for nine days, or should I say nights? We shot for two months in Rajasthan and most of that shoot took place in the night as well."
"Aaaction!" demands the director one more time.
Not for me, though.
I left.
I had enough action for one night.