Producer Pammi Baweja and director Harry Baweja's Qayamat stars Ajay Devgan, Suniel Shetty, Sanjay Kapoor, Arbaaz Khan, Neha Dhupia, Isha Koppikar, Aashish Chowdhry, Riya Sen, Chunkey Pandey and Ayub Khan.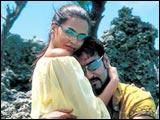 The film releases July 11.
Its posters and other promotional material claim it is India's first digitally enhanced film. Anjum N spoke to cinematographer Sanjay F Gupta and Prime Focus' managing director Namit Malhotra to find out more:
Promos claim Qayamat is India's first digitally enhanced film. What does it mean?
Sanjay F Gupta: It means the film has gone through a special colour correction process at the laboratory. The film has been digitally done up to cover flaws and give it a touched-up look. It gives us flexibility and makes the final product look sharper and better.
Is it colour corrected after being shot on the usual cameras? Or was it shot with special equipment?
SFG: Special equipment was required only at the post-production stage. We did the entire processing at Prime Focus. They have a new machine called The Spirit, which was used to colour correct the entire raw stock that was shot.
How expensive is this process?
SFG: Definitely more expensive than the usual processing. I cannot tell you the exact amount. For that, one will have to check with the producers. But the end result was worth the time, money and effort.
Namit Malhotra: We cannot quote figures without knowing how much work a particular film will require. Also, the budget of the film and its canvas is important.
If this process is expensive, does it not make more sense to digitally upgrade only the edited film instead of the entire raw stock?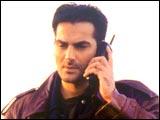 SFG: No, if we do that, we will be compromising on quality and continuity. The film has to be digitally corrected before deciding what to retain or chop.
How much extra time does this take?
SFG: It takes a couple of additional weeks at least if you are working the normal 9 am to 6 pm timings. This can be reduced if you put in extra hours and work nights and holidays, but then you cannot ensure consistency and quality. I'm sure you will stop seeing the difference between red and blue after a few nights [laughs] On an average, I think we will need an additional 1.5 months to digitally colour correct an entire film.
NM: It took 45 days to digitally upgrade Qayamat. One cannot talk in terms of how much time each film will take to upgrade fully. It depends on how much a particular film requires -- the amount of special effects, action scenes and high-speed shots involved.
Qayamat being an action film, there are many stunts scenes and explosion shots. The editing pattern required a certain dissolve to make the result look convincing. Similarly, many high-speed shots had to be touched up to give them the right feel.
We scanned the entire film and gave it the correct colour tone and texture. This is something the normal LAN process cannot deliver.
We have also stylised the songs. So, when you watch it, you won't get the impression it has been shot across many days, at different hours of the day or at different places. We have managed to give it the right balance. It's a value addition one cannot do without.
We have given the film a look that is at par with other Hollywood films. We can rightly claim the end result is far better than the source.
Will the lay audience be able to make out the difference?
SFG: No, I don't think so. But new technology is not meant to please the lay audience anyway. They will see the difference in the way the entire film comes out, not in a particular scene or frame.
Why was Prime Focus chosen?
SFG: I have worked with the company for about eight to 10 years now. I have done quite a lot of videos and films with them and recommended them to the filmmakers as they do a good job. Also, since they have all the necessary equipment and experience, we would not have to take the film abroad.
Does it help working with someone you are familiar with?
NM: Yes, having worked with Sanjay Gupta earlier, we know his creative tastes and what he is looking for. We understand his choice of colours and patterns, and know what exactly he is aiming to achieve. This is very important in any creative job.
Which other films is Prime Focus upgrading digitally?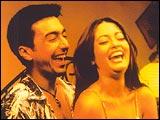 NM: We are in talks with many filmmakers, but nothing has been finalised yet. This will happen only after Qayamat releases. Just like filmmakers cannot make sleek and stylish films without surround sound anymore, they will also have to accept digital colour correction as the norm soon. It is going to be that unavoidable.
So the Indian audience can look forward to a Hollywood experience?
NM: Yes. One keeps hearing the complaint that most trailers on television look better than the actual film. Audiences are disappointed when they see the film in the theatres and think they have been taken for a ride; that it was a waste of money.
But this will not be the case with Qayamat. I bet the film will look better than the promos.
And the trend will catch on?
SFG: Yes, of course. This [digital enhancement] is the future.
Click here for more interviews