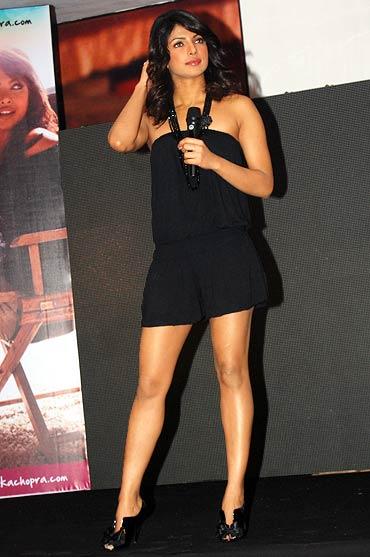 The Bollywood beauty from Jamshedpur, Priyanka Chopra has not forgotten her roots. Her active participation in championing the cause of child and adolescent rights has made her the national ambassador of UNICEF.
The relationship between the actor and UNICEF was sealed through an agreement signed in front of the media in New Delhi on Tuesday.
Addressing the press conference the actress said, "I am elated to lend voice to an issue I strongly believe in. I have visited slums and traveled in the heart of villages to understand the problems of child education, malnutrition during my association with the UNICEF in past two years".
She said she would focus on girl child education, as she firmly believes that if you educate a woman you educate a family.
"Hailing from a family of doctors I was made to understand the importance of education at a very young age. I was allowed to chase my dreams but unfortunately not many families in India are supportive of their daughter's ambitions. I have seen this attitude even in affluent families and am deeply affected by it"
For me a child's basic right, irrespective of gender, is to be whatever he wants to be in life", Priyanka added.
She said education does not imply solving two plus two; it extends to overall well-being of a child.
"I would be talking to parents, conducting lectures in rural India about reproductive health and family planning. Simple things like use of contraceptive has become pressing issue in times of population explosion." she said after signing the agreement.
When questioned about the challenges she is to face. She replied, "I'm scared of cynicism. People feel celebrities are full of words and little actions. There are times when you are not taken seriously but that's okay. I have fought that in the past too".
UNICEF representative Karin Hulshof on the other hand sounded confident that the actor's popularity and stardom can provide impetus to their child and youth development programmes in India.
While D K Sikri, Secretary Ministry of Women and Child Development said, "hailing from a small town in Jamshedpur, Priyanka becomes a great inspiration for girls in backward areas".
He mentioned about a special scheme proposed by the Ministry to focus on the needs of adolescents-education and nutrition mainly, to be implemented in 200 districts in the first phase.
"The scheme is expected to be passed by the cabinet in the current session of the parliament", he said.
Associating herself to the noble cause, Priyanka joins the bandwagon of veteran actors Amitabh Bachchan and Sharmila Tagore in supporting UNICEF's word for children and adolescents in India and around the world.